Cooking up new ideas with free course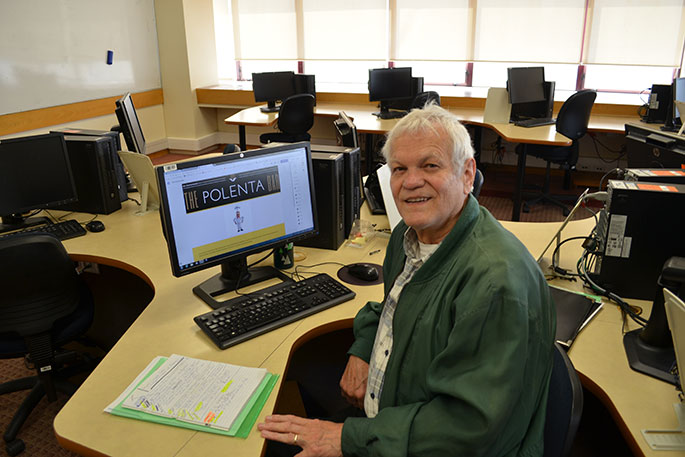 With a culinary career spanning 50 years Remy Zibung knows plenty about fine cuisine, but the 71-year old recently decided it was his computer skills that needed spicing up.
After a chance encounter with a fellow chef who was studying the NZ Certificate in Computing (User Fundamentals) L2 at Toi Ohomai Institute of Technology, Remy decided he would give it a go too.
As Senior Chef at Pauanui's exclusive Grand Mercure Puka Park Resort, Remy creates the menus and the recipes for the hotel's 'Discovery Monday' buffet and BBQ. Previously, he would type them up but could do little else.
"I had to depend on someone else to help me put the finishing touch on my menus," Remy says.
"Now after studying this course I know all about fonts and adding images. We've also learned all about Google products like Google Sheets which I now use for timesheets."
Tutor Suzanne Hart says the skills students are learning on the 12-week course can be put to use in a multitude of ways.
"We have students of all ages, and of varying experience with computers," she says. "The course is giving them a solid understanding of computing and introducing them to all sorts of ways they can put those skills to use in their lives. Some of them may have felt isolated before, but now they are learning how to connect with the online world."
Remy says people from his generation didn't grow up with computers, but feels everyone should try to keep up with technology.
"This course is one of the greatest things I've ever done. The beauty of it is I've now got all this information coming in. It opened up a new life for me – a new life at 71, can you imagine that?"
The NZ Certificate in Computing will be running in various locations around Tauranga in November. Please call 0800 86 46 46 or visit toiohomai.ac.nz/to/kickstart-your-computing for more information.
More on The Weekend Sun...