Looking for an e-bike?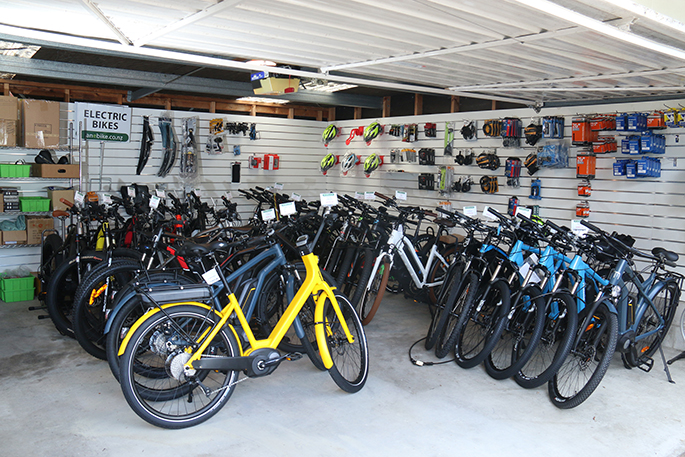 If you haven't tried an e-bike, see Len Haller at Anebike. He's got one of the largest ranges of e-bikes on display anywhere.
Anebike works hard to bring you the best value and latest e-bikes from New Zealand and around the world.
Len says three years ago, when he had the first Moustache quality mid-drive electric bikes, he'd get the comment 'yeah but it's cheating'.
"This was until they tried them themselves," he says, "and suddenly it's not about cheating but 'where can we ride to next?'"
He stocks the Fleetwood MTB-V1.0, featuring a Shimano Steps Motor – a proven e-bike platform with big distance capabilities. "We regard the Fleetwood MTB-V1.0 as the baseline of what a good electric bike should be," says Len.
"This is not a toy made of cobbled-together parts from China, but rather a fully integrated electric bike for absolute riding pleasure.
"It is rock solid, capable, reliable, comfortable, balanced and backed with a full two-year warranty in New Zealand, not offshore like so many others."
Len says as an e-bike specialist it's his job to explain, present and demonstrate what an e-bike is and how it works.
"We have the most informative presentation in the business. Try us. We know we're not able to sell everyone a bike, but it won't stop us trying."
Mix this with the best range of e-bikes available in New Zealand and he's pretty sure he can help.
From factory-built e-bikes to a customised set-up, brands include Moustache, New Zealand's Fleetwood Electric and Hiko e-bikes, as well as Apollo, Merida, Magnum, LaPierre and more.
"And we have some of the best prices you'll find. That's what Anebike is all about."
Call Len on: 027 787 1577 or visit: www.anebike.co.nz
More on The Weekend Sun...