Back to basics in Samoa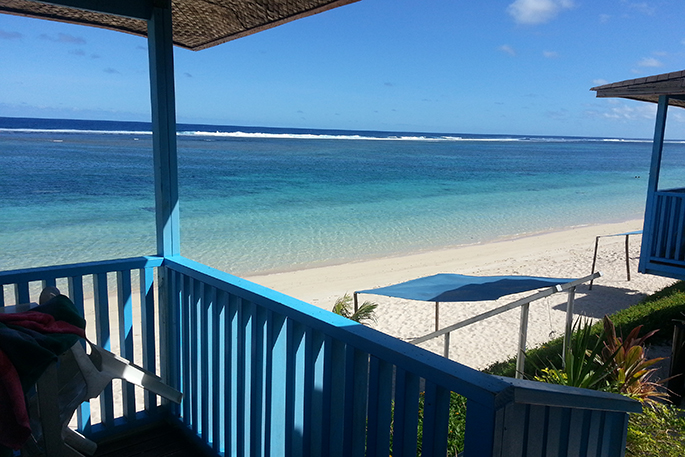 It's Sunday morning in Apia, Samoa and you can barely hear a pin drop. That is until church is in session. It is estimated that 98 per cent of Samoans are Christians and the whole country shuts down on a Sunday to worship.
When you're on holiday, it's a good excuse for a chill-out day, but you are more than welcome to join them.
While I chose to soak up the sun by the pool with a good book, my husband and son headed off to the local church ­– the Prime Minister's no less – to take a look inside the spectacular building with its beautiful stained glass windows.
Samoa is a relatively poor country, but every village has at least one church that stands out among the sea of basic fale – the Samoan home with open sides and a thatched roof.
We nearly didn't see much of Samoan village life. My original plan had been to book into a popular resort near the airport on the main island of Upolu, but then I saw a photo of Lalomanu Beach on the south-east coast and instantly fell in love.
It was tempting to head straight for the beach, but we opted to spend a few days in the capital, Apia, first. We stayed at the beautiful Orator Hotel in the hills behind the city centre where the bungalows are nestled into fragrant tropical gardens.
To-Sua Ocean Trench.
Once home to Scottish author Robert Louis Stevenson, Apia has a museum dedicated to his life and work, and a number of other historical places to visit.
With three young children in tow we decided to skip the history lesson and headed for the Apia Flea Market – a treasure trove of island-style clothing, souvenirs and trinkets.
A floral dress was purchased for Miss Ten and floral shirts and lavalavas (a rectangle square of cloth worn like a skirt) for my twin boys, aged seven.
My fair-skinned, red-haired son refused to take them off for the entire week, earning himself some beaming smiles from all the old Samoan ladies who appreciated the efforts the little palagi (Samoan name for Caucasians) went to.
And then it was into a rental car and off to Lalomanu Beach, regularly voted in the top five 'Best Beaches' in the South Pacific. The beach consists of about a mile of shining white sand with a shimmering blue lagoon that literally takes your breath away.
The coral is still recovering from the tsunami of 2009 which devastated the coast, including the family-run beach resorts that make their living here.
They have since rebuilt and are flourishing once again. We stayed at both of the main accommodation providers there - Litia Sini and Taufua Beach Fales.
Litia Sini is the more upmarket of the two, with the beach fales enclosed with actual walls and fitted out with real beds.
With no shops or restaurants nearby, breakfast and dinner is included in your stay, and while the food is basic it is tasty and plentiful.
We spent many an hour lying on the beach in the sun, swimming and snorkelling, and enjoying the view from the balcony of our fale.
It was tempting to do that all day, every day but we did drag ourselves into the car to do some exploring and check out some of the other resorts in the area for lunch.
Yellowfin tuna salad at the Aga Reef Resort.
One of the highlights of our week was a visit to the To-Sua Ocean Trench, a 30m-deep swimming hole accessible by a wooden ladder down to a platform from which you can jump or dive into the crystal-clear water.
The pool is fed through a cave that leads out to the ocean. It is affected by tidal surge, so a strong rope runs across it that you can hold on to for support.
There are many waterfalls to visit in Samoa, but some of the entry fees are a bit steep and I've seen better in New Zealand. The Papase'ea Sliding Rocks in Apia are fun to visit, however, with natural water slides carved out of the rock.
We enjoyed visiting some of the other resorts for lunch, and while I'm not normally one to photograph my food, I couldn't resist when it came to my yellowfin tuna salad at the Aga Reef Resort.
This upmarket resort, near Lalomanu Beach, had only recently opened when we visited but has unsurprisingly rated very highly among travellers since.
Our last night in Samoa was spent at the Taufua Beach Fales. We had to move because I had made a booking error and Litia Sini was unable to accommodate us.
Although the accommodation is far more basic – the fales have open sides and you sleep on mattresses on the floor – the atmosphere at Taufua is something quite special. If you stay there you are considered family and are treated as such. We had a fabulous fresh fish dinner and lots of laughs with fellow travellers that we shared a communal table with.
One thing to note is that fresh water is precious in Samoa, so you won't get a hot power shower. More like a tepid dribble, if you're lucky.
At Litia Sini I gave up on the shower, filled a plastic basin with water and took it back to my fale for a sponge bath. As for the kids – well, swimming every day is washing isn't it?
More on The Weekend Sun...