Create the perfect outdoor space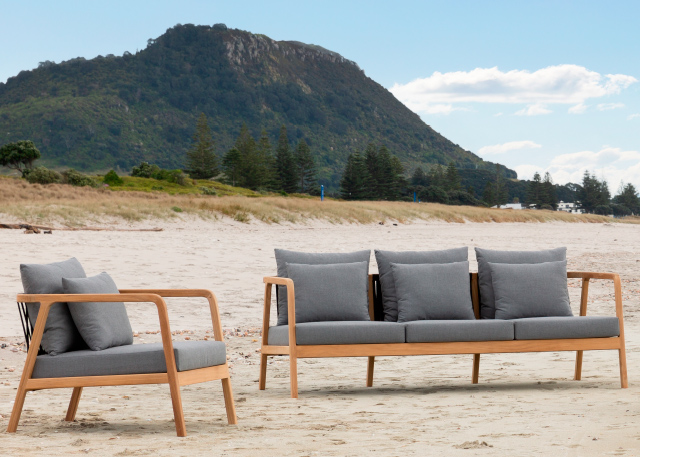 An outdoor living space offers limitless design possibilities, adding to the usable area of a home and the value of the property without extending the building's footprint, and creating an inviting place to enjoy the outdoors year round.
We had a chat to The Design Depot about how to create the perfect outdoor space this summer.
Materials designed for the outdoors
With so much choice in terms of furniture and decor for the outdoors, it can be hard to know where to begin. "Often, the best place to start is to consider materials and what would be best suited to a particular space," The Design Depot's Kylie Keene says.
"The rugged New Zealand environment is much harsher than many other countries, so it's important to carefully select materials that are designed to withstand our unique environmental conditions."
This includes materials designed specifically for the outdoors, and premium quality products that were built to stand the test of time. "For example, using Sunbrella fabric and Quick Dry foam for outdoor sofas and chairs is important. These materials are designed to stay outside year-round and will not fade or degrade over time, even with extended UV exposure."
On-trend versus timeless style
While it can be tempting to select on-trend pieces for the outdoors, it's important to consider the longevity of that trend and whether it will become outdated quickly and need replacing. "This is something we're passionate about with the collections we stock. We believe in timeless style and only offer a selection of outdoor furniture that is timeless in design and crafted with high quality materials to last for generations," says Kylie.
The beauty of selecting timeless pieces made with quality materials is while they may be an investment at the time of purchase, they won't need to be replaced for decades and won't go out of style as fashions change. Rather, simple decor items such as cushions and throws can be incorporated to inject a sense of currency or on-trend colour.
Selecting furniture that works well within the geographical context
Just as the architectural style of a home may reference the site or surrounds, using geographical context as inspiration, so too can outdoor furniture work well if it is designed with the local environment in mind. "One of our ranges, Cove Outdoor, exemplifies this concept. It is designed in New Zealand, inspired by everything from the form of traditional crayfish nets to sailboat features, drawing inspiration from life by the sea. Every Cove Outdoor piece is crafted for our unique New Zealand environment," Kylie says.
"Often, choosing pieces that are designed with the local environment as inspiration is the best way to create a harmonious and unique feature in an outdoor area that is contextually appropriate."
Creating layers with texture, form and material
A dynamic outdoor space generally offers a layering of texture, colour and material, with versatile and relaxed configurations. To create an area like this, consider the intended uses of the space and how it may be used in different ways at different times. A statement piece such as a concrete table can offer a visual centrepiece and anchor for an outdoor area or room. "Concrete is hard to look past as the ultimate statement piece," says Kylie.
"Our concrete collection is designed in New Zealand as a beautifully versatile range that adapts to different moods to add style to any environment."
Just as a room would be layered with different furnishings indoors, the same concept can be used for outdoor spaces. Considering items such as rugs, cushions and throws that can be used to create pops of colour and texture in an outdoor setting is important. More permanent items such as planters help to define an area, and can create a layering of height and materiality.
Often, ensuring a mix of sculptural and linear forms are present allows for the creation of dynamic spaces. Accessories such as lamps, lighting, umbrellas and vases can be used to complete the area and interchanged as necessary to keep it fresh and current.
Designing the ultimate relaxation space
Combining the texture and sense of permanence a concrete setting evokes, for example, with softer pieces such as bean bags that are easy to move around and offer a more relaxed seating option is a great way to create a dynamic juxtaposition of form and material. It's also an easy way to define different areas of an outdoor space, creating a separation between a more formal dining or entertaining area and one intended primarily for relaxation.
Often, defining different zones in an outdoor setting can help to create a sense of calm and draw people into the separate areas of the space depending on how they plan to use it. For example, a relaxed bean bag setting in an area of morning sun can be the perfect place to enjoy a weekend coffee or an afternoon nap on a lazy Sunday. Conversely, an area geared for entertainment with elegant furnishings and visual anchors including well-placed lighting and foliage is likely to be attractive to groups of people in a social setting.
The Design Depot has stores in Hamilton and Mount Maunganui, with an in-house team of specialist design consultants. If you're looking for inspiration for your outdoor area, make sure you visit The Design Depot.
More on The Weekend Sun...