The life and times of Prue Gooch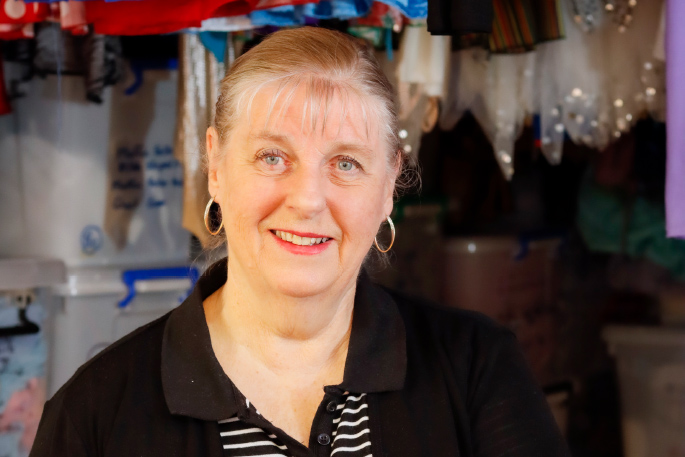 The first show I ever saw was when I was six or seven years old and all 70 students from Glenbrook School in Waiuku were taken to Pukekohe to see Petruchka, a ballet by Igor Stravinsky.
Coming from mostly dairy farms in the area, we were completely enthralled. I sat cross-legged on the floor near the front, ballet dancers twirling in front of me. The costumes, dancing, colour and excitement are things you never forget.
I've since learned that a highlight of Prue Gooch's early dancing career was performing in Petruchka with the famous Alexander Grant dancing the title role in the then NZ Ballet Company.
Her passion for dance and teaching ballet led her to create a top NZ dance centre here in Tauranga.
In December, more than 200 of Prue's trained dancers from the Dance Education Centre will take to the stage in the Addison Theatre at the Baycourt Community and Arts Centre to perform 'Jack and the Beanstalk'.
It will be another stunning ballet in a long line of brilliant productions that have delighted Tauranga audiences for more than 30 years, and which have helped launch and establish the careers of dancers who have gone on to be members of ballet companies in Berlin, Australia, London and Europe.
I don't think many of us truly realise, collectively as a city, what an incredible ballet school we have here. It's launched the careers of Olivia Moore and Katherine Grange who are dancing in the Royal New Zealand Ballet Company. Ty King-Wall is a principal with the Australian Ballet Company, and Delia Matthews is a principal with the Royal Birmingham Ballet.
And there's been many more over the years who have gone on to work in the world of dance and theatre. They all started their careers here with Prue and Debbie Gooch in Matua.
The Dance Education Centre was established in 1990 in Tauranga, from the Prue Gooch School of Dance, established 1976. The productions started soon after Prue arrived from Gisborne with her young family in 1975.
Setting up a dance school was a priority and she opened the doors in the Levers Road Hall with just 13 pupils. The first production was put on soon after she started teaching.
"At the end of '76 we had a small display for parents," says Prue.
"After that we took our end-of-year productions in the 70s and into the early 80s into the town hall. They got bigger as the studio grew and the audiences knew we were there."
The Tauranga Town Hall filled with people, with the likes of Rotary club members bringing elderly and anyone else in, who they thought would benefit from having an afternoon out seeing the performances.
"After that they built Baycourt. I sort of felt that they had built Baycourt for us."
Prue chuckles at the memory.
"We moved everything that we were doing into Baycourt in 1983. Over the years there's been our end-of-year productions, and also other major productions staged there."
Prue was a founding member of the very successful 'Dance Unlimited' organisation, made up of Tauranga dance teachers, students and their parents.
"We raised funds, held seminars and also we put on productions at Baycourt."
As well as staging ballets, Prue helped Bob Addison and Baycourt Productions with choreographing musical productions such as High Society and Chicago.
Together they set the standard very high for years to come.
"I always felt Bob Addison was the godfather of Tauranga theatre in his years here."
One of the highlights of that time was staging and directing 'Giselle' with Tauranga born Lisa-Maree Cullum, at the time Principal with Berlin Opera Ballet and Europe's leading 'Giselle'. Bolshoi star Alexis Dubinin danced the role of Albrecht.
Prue also did a lot of choreography for the Tauranga Operatic Society as it was called back then. As time went on though, she focussed more on the dance school and their own productions.
The Dance Education Centre moved into its current premises in Levers Rd in 1991. Thousands of children and adults have come through the doors.
"We've taught and involved all ages in our productions," says Prue.
Bob Addison's wife Vhea was a dear and close friend.
"We worked closely together for many years on not only the productions that Bob produced but also she came and gave a hand with the ballet productions and our end-of-year shows. She was a huge loss."
These days, Kat Moore and Sue Taylor are two who help, putting in many hours making costumes. Prue's daughter Debbie is also a DEC director. Although she has also taught modern dance and tap, Prue stays with her first love - classical ballet. Debbie teaches classical as well as modern and contemporary dance.
Jack and the Beanstalk is causing great excitement amongst the dancers.
"Of course being a fairy tale, the children just absolutely love it, it develops their imagination," says Prue. "I asked them questions about the story to make sure I get it right and to involve them in that way and they just absolutely come to life."
Once again, Prue has choreographed the ballet, and once again Tauranga audiences will find themselves enthralled at another spectacular DEC production.
More on The Weekend Sun...