Style that you can see through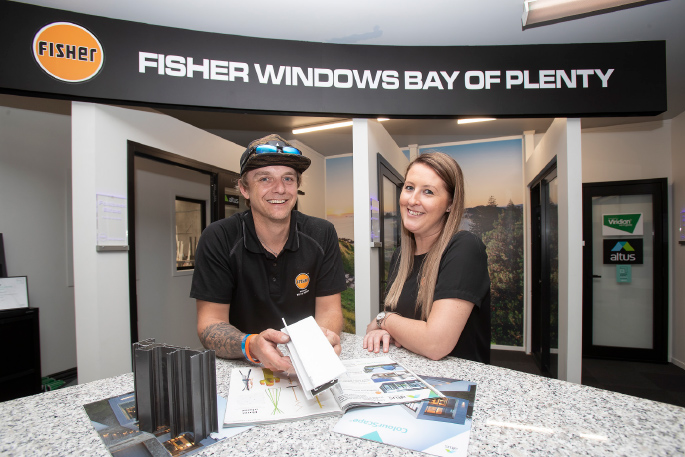 Windows and doors add the wow factor to any home so we take the time to find out how the experts do it.
When building or renovating your home, it is imperative to work with trustworthy businesses that prioritise top-notch workmanship. That's where Fisher Windows Bay of Plenty comes in. The business was born from the philosophy of delivering high-quality results when installing windows and doors into homes across Tauranga.
Business owners Steph and Evan Thorby walk us through the steps they take to ensure each home is kitted out with the perfect windows and doors, and their top tips to help our readers to make those tricky decisions.
The first step is to figure out what people want to achieve when putting in a new door or window. Is the old window or door no longer practical for what they require? Is the joinery simply past its use-by date? Is it important to maximise the views?
Evan says he looks at each client's house as his own, and figures out what would be best suited to the space. He focuses on the best options for the client's desired outcome and budget.
For new builds Evan will go through and look at the position of each window and door in the floor plan. It's important to focus on the little things – what side the window opens from, access and positioning.
People need to decide if they want windows and doors to stand out as a feature, or blend in with the cladding. A colour consultant is advisable for those who want their windows to pop!
Glass type is the next biggie. Steph recommends Low-E glass. With different options added, it can help keep the heat out in summer and the heat inside during winter.
For those wanting tinted glass, Evan likes to find out what clients want to achieve with the tint. It won't necessarily be the most effective way to prevent fading indoors – there are other options for that too - but it does result in increased privacy.
For those who live near the beach, make sure your windows have the right powder coat for seaside conditions.
Sliding windows are a good option for those with young children, as it prevents nasty accidents that involve a head hitting the corner of an open window.
The local business' main focus is simple – bringing top quality joinery to any new build or renovation.
"It's something we want to drive home – we are here to answer your questions and give you as much information as we can."
"It's an exciting time if you're building or renovating, and we want to make the process as easy as we can," says Steph.
More on The Weekend Sun...