Karyl's Mount  Mainstreet magic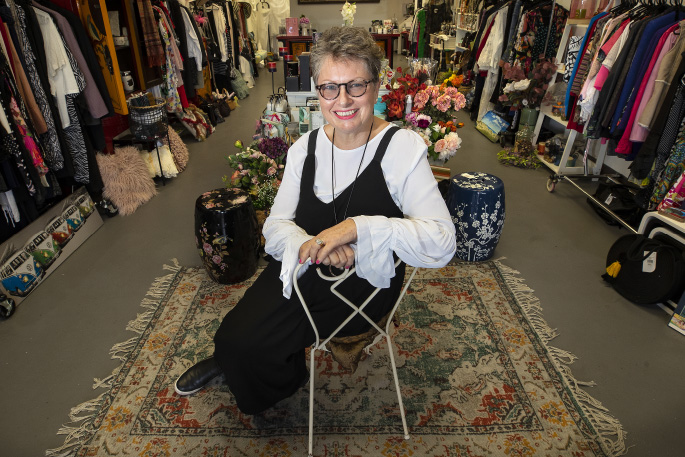 Mount Mainstreet has plenty of magic and vibrancy with destination shopping and treasures that can only be found in this seaside town.
A new rising star nestled in close to the popular Ours Cafe is Karyl Gunn-Thomas's 'Enchanted Pre-Loved and New' which has opened at 197 Maunganui Rd. Stepping into the well-lit shop is to experience a rich world of not only new clothing, but one that resonates with countless unspoken stories of people who loved and wore the classic garments on display.
Interspersed amongst the collection are candles, diffusers, paintings, decoupage horses and candleholders. Jewellery boxes, notebooks, marine-themed items, homewares, clocks and housewares create interesting eye-capturing focus points. And there's tiled tables, an antique bicycle, leather boots, shoes, teddy bears, ponchos, flowers, fur coats, and jackets. An elegant wedding dress stands tall at the rear of the shop, and a play area for children to enjoy while parents are shopping is tucked away in a nook.
"We have a lot of male customers, they like the artwork, and also want to purchase something for their wives and partners," says Karyl.
Karyl originally started the business in Te Puke in November but moved it to the Mount in late January, with the concept adapted from Deb Laraman's 2019 Revolving Wardrobe.
"It's pre-loved and new," says Karyl. "I buy some things new and other things I find."
The clothing ranges from size 6 to 24.
"We sell on behalf of people too. Their items are on sale for eight weeks at 50-50 share. After eight weeks I pay the person for what's sold, and what's not sold they take back. They have five days to let me know if they want to collect it, or they can choose for it to be donated to charity."
Her desire to put back into the community and her skills in retail have combined well in this new enterprise.
Karyl moved to Te Puke in 1986, where she had an orchard for ten years before going into retail. From there she went into politics, serving as a Maketu Te Puke ward councillor on the Western Bay of Plenty District Council.
"My career has been huge and diverse but always community minded and helping people."
Her shop Enchanted is about making people feel nice at affordable prices. It is open Tuesday to Saturday with hours 11am – 3pm Tuesday to Thursday, and 11am – 4pm Friday to Sunday. It's closed on Mondays.
"But I can open anytime, particularly with four or more women, even after work," says Karyl. "In Te Puke I was doing monthly women's evenings and had between 10-12 women come for an hour. I'd do a talk about fashion sustainability or wardrobe organising."
She plans to start that up again at the Mount once the weather warms up.
Last year Karyl published her book 'My Story'. It is available to purchase at Enchanted.
"This could be anyone's story," says Karyl. "It's about whatever happens in your life, don't let it define your whole life."
The book reflects her decision to rise above difficult challenges and live life well.
A mother of two, one of Karyl's daughters is a PHD Dr in Biochemistry in Sweden. Her other daughter is working in London as a deputy principal.
Karyl was awarded Businesswoman of the Year for her work with Te Puke's Paperplus (at the time under the TakeNote brand), along with other awards. She went on to work for PaperPlus looking after 75 stores throughout NZ, many of which won awards.
"Then I went into politics," says Karyl. She was on the community board for nine years, and thinks there needs to be a Mount community board.
"We should all be one area with all community boards. One lot of computers, one lot of staff, one lot of contractors."
Karyl has also been a long-standing advocate of the arts and culture sector in the Western Bay district. She was the chair of the Western Bay Creative Communities Scheme – CCS - after being a mainstay in the programme for over a decade.
"Karyl has done a great job over the years, not just assessing applications and providing leadership for the panel, but also having an in-depth understanding of how arts and culture makes a meaningful and long lasting difference in local communities," says Creative Bay of Plenty's funding & projects advisor, Annie Hill.
Karyl's contribution added significantly to the vibrancy of the Western Bay district and now that she has opened her shop on Mount Mainstreet, her philosophy of 'all form of art is fundamental to human expression' will no doubt creatively spill over as she brings her passion and implements her desire of always being of benefit to her community.
"My life is like the garden I adore, being able to produce abundance, to grow and explore.
"I love it here at the Mount."
More on The Weekend Sun...