Show-stopping local success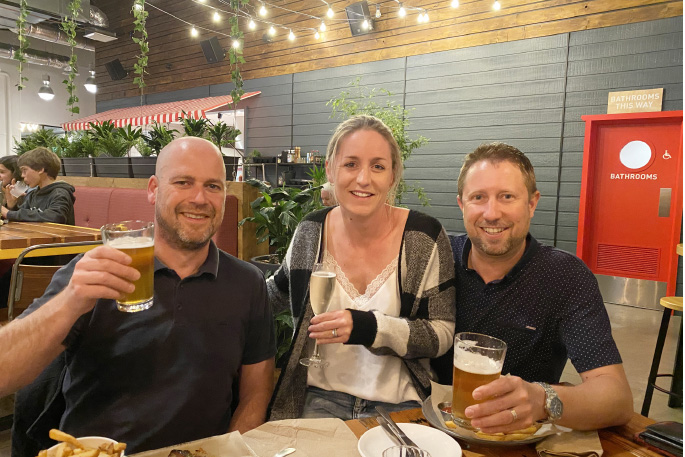 The three local BOP founders of Show TV celebrating the company's 15th birthday this September; Philip Blomfield, Bridget Clarke, Darryl Clarke.
It's the biggest company of its kind in Australasia, it's been in business for 15 years and is tucked away in the Mount.
And you probably know them, even if you don't quite realise it.
Show TV is a social shopping company based in Aviation Avenue, Mount Maunganui, and it's a Bay of Plenty Home Show stalwart, having been represented at 14 shows in 15 years as a local business.
Despite getting most of its revenue at the time from events, Show TV survived Level 4 lockdown by changing things up a bit.
Show TV co-founder Darryl Clarke said they faced the closure of most of their events in March, which made up about 85 per cent of revenue.
"It was a pretty daunting prospect. I'd rather not go back to that again."
Show TV sells innovative, unique and useful products for around the home, in the kitchen, health and beauty and more.
"All the products we sell have a story to tell – we look for products that aren't 'left-handed' – what we mean by that is we look for products that everyone can use.
"We search the world for things that are unique and innovative. We knew we had all of that right here in-stock; the next challenge was figuring out how to get it in front of people."
Plenty of companies were thinking the same thing – and many rushed to traditional television advertising to do it.
Prices of TV ads went up, says Darryl, so they tried to think outside the box.
"The future is really digital – we put about two years of business development in place in two weeks. We got the group together and started thinking about how we could transform the business really quickly into one that sends a traditional message through digital marketing."
Darryl went from never having heard of Zoom – like many of us – to using it on a near daily basis.
"By the end of the March, we're having our lead team meetings over Zoom, we're meeting people over Zoom, everything was over Zoom."
Then they attacked social media – and were relatively successful.
"What was cool was a lot of the videos we filmed over lockdown were filmed on our smartphones, in our backyards, our homes, with our families, using our products.
"There's a video on our Facebook page of me cleaning our windows using products with my kids. This was just a 'we're already cleaning the windows, why not shoot a video at the same time?' sort of thing and I think it ended up getting around 800,000 views.
"That's just outstanding, and it generated hundreds and hundreds of comments and engagement.
"Kiwis really resonated with our 'local friendly service' angle that we have as a business."
One video, demonstrating their carbon infrared heater, garnered more than two million views, Darryl says, which are pretty good numbers for a domestic market.
"Those sort of numbers – they're not exactly eye-watering numbers when you throw them around internationally, but domestically that's a lot of views and a lot of engagement."
But at the heart of the business is connecting with the customer which is easiest with face-to-face interaction and something the team is excited to get back to.
"It's been great to push the business into new ways of reaching customers, but as a business we are the largest and most experienced company of our kind here in New Zealand in the niche field of direct marketing at consumer shows.
"It's good to get back into it."
And Darryl has glowing things to say about the Tauranga Home Show
"We do 100 consumer events a year – 60 of those are here in New Zealand – and the Tauranga Home Show is the strongest regional consumer home show in New Zealand and it has been for years," he says.
"For us it's really cool that there's such a strong show just down the road. For the bulk of the year, our team are on the road going from town to town. We're really looking forward to this year's Home Show, you bet!"
Show TV are responsible for high-quality, innovative brands and products such as Woll Cookware, FryAir Touch Air Fryer, Little Giant Ladders and much more.
They'll have about a dozen stands dotted around the Tauranga Home Show from October 16-18 at Trustpower Baypark, so keep an eye out for them.
For more information and to shop, visit: www.showtv.co.nz
More on The Weekend Sun...