A focus on community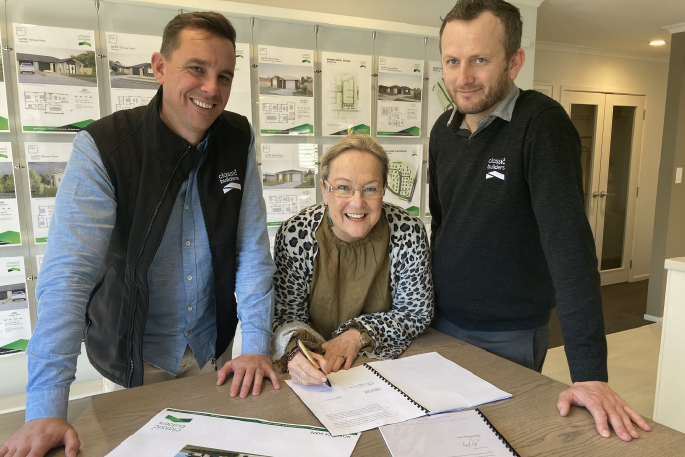 Builders regional manager Nathan Watkins, Homes of Hope CEO Hilary Price and building consultant Bryce Hickey signing the contract.
When you look at building or buying a home, you look for more than the finished product.
You look at the community around it. What are the neighbours like? What community events and initiatives are there around you? What's the feel of the area?
Picking a builder for your new home or home renovation is a bit the same.
Some builders just build homes and others work to build communities, too.
Trident Homes
Trident Homes has branches all through the South Island, but only one in the North – and it's based right here in Tauranga.
The Tauranga team are a special bunch and proudly sponsor the Special Children's Christmas Party held at the Mystery Creek Event Centre every year.
The day gives more than 1600 children a day they'll never forget. They are children with life threatening diseases, intellectual or physical disabilities, those involved in accidents or those living in disadvantaged circumstances from the Waikato, Bay of Plenty and Rotorua.
It's a fun-filled, treat-laden three-and-a-half hours of fun they'll cherish forever, filled with chips, lollies, ice cream, sandwiches, fruit juices and so much more.
The team work with entertainers to provide the children with bouncy castles, face painting, clowns, dancers, fairies, magicians and more.
Local police and fire crews get on board with engines and cars for the kids to ogle at, but the highlight of the day is Santa.
"Kids head off to Santa's huge cave filled with thousands of top-quality gifts; an array that reaches more than 70 metres!" says Trident Homes' Wayne Minnell.
"Here every child, according to five different age groups, personally meet with Santa and receive three or four gifts to call their own."
Gifts range from large, soft teddy bears, science smart boxes, educational laptop computers, adventure playsets, board games, remote control cars, Lego sets, and much more.
Classic Builders
Classic Builders was founded right here in the Bay of Plenty, so their connection to Tauranga is strong.
But they're interested in more than just building homes for families; they've been supporting Homes of Hope – an organisation that works to get children into happy, safe foster care.
Last year, the Classic Builders team raised $25,000 for Homes of Hope by running a fundraiser and completing 13 F45 fitness classes in one day.
This year, they've set a more ambitious goal - they are actively involved in building a home for Homes of Hope.
Their Givealittle page is aiming for $210,000 to make this happen.
They achieved their first milestone in mid-September – the contract was signed – and they're planning on getting on with construction before Christmas.
The next milestone – also mid-September – was a sod turning, a special moment for both Classic Builders and Homes of Hope.
'Every cent raised will literally be putting a roof over the heads of our most vulnerable tamariki," says Classic Builder's regional manager Nathan Watkins.
"The $25,000 raised last year has provided a great foundation to kick-start this enormous initiative. But we can't do it alone, and we need your help to bring this Home of Hope to life."
People can get involved themselves by donating; search 'The Home of Hope' on Givealittle.
More on The Weekend Sun...