Visiting the big carrot off-season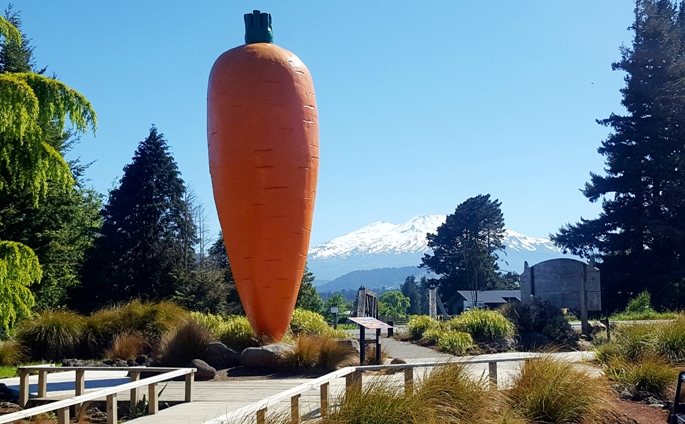 Ohakune, the land of the big carrot, is a popular ski destination during winter but has a somewhat lonely feeling in the off-season.
However, even if you're not that keen on snow sports, Ohakune and the surrounding area has plenty to offer.
I went to Ohakune with my husband Dan at the end of 2020; my sister was graduating from her basic Army training in Waiouru and Ohakune was the best place to book a room.
The ski town is all but deserted as summer approaches – so much so that the local laundromat closes its doors in the off-season – but this small town has a certain charm when it's not swamped with people swinging skis around.
We stayed at Snowhaven – a nice little hotel conveniently located near the centre of town (though 'town' is pretty small when it takes about 20 minutes to walk from one end to the other). Well-priced and clean, Snowhaven is a nice place to hang your hat if you're not keen on sharing with others in a hostel.
We got in to Ohakune a little late, but found that The Mountain Rocks café and bar was still open for a pint of Guinness and a hot meal, which both my husband and I were grateful for. This cosy bar on the corner of SH49 and Goldfinch Street serves a good scotch fillet and chips and, for the sentimental types, you can purchase a postcard with a lovely artists' rendition of the establishment to remember your time there, drawn by Drawing The Way.
In my opinion, it's worth a 20-minute drive over to Waiouru to visit the National Army Museum. It's one of the best museums in the country in my opinion, and the exhibits change on a regular basis. It's a touching experience and the exhibits are really well done. There's even a section about New Zealand wars, with a display dedicated to the battle at Pukehinahina/Gate Pa.
If you like to wander around and read everything in sight, this museum will likely keep you busy for most of the day, and there's a military-themed café called The Mess Tent for when you're ready for a sit down, a tea or coffee and a bite to eat (I can highly recommend the sausage rolls!).
On your way out you'll notice the gift shop, with a range of army-themed memorabilia and a good selection of books. Outside, there are a few tanks dotted around that are suitable for posing for your next Facebook profile picture.
The Rustic Eating House is a fabulous place to stop for dinner in Waiouru before heading back to Ohakune. With an extensive menu and good food, you can't go wrong at this cosy-themed restaurant and café. There's also plenty of souvenirs, an impressive tea selection, jams and other bits and pieces to take home with you.
If you fancy yourself as a bit of a treasure hunter, there's a few geocaches in Ohakune that make exploring the town a bit more entertaining.
For those new to this form of modern-day treasure hunting, geocaching is an outdoor recreational activity that uses your mobile phone, hide and seek containers called 'geocaches' and specific locations marked by coordinates all over the world. There's an app you can download that makes this activity easy and fun.
The Ohakune Carrot Park is a good stop for the young and young-at-heart. With giant veggie sculptures and a themed playground, the park is a nice place to relax with a picnic while the kids tire themselves out. There's a dedicated picnic plaza and an exercise area if that's your thing, and don't forget to snap a picture with New Zealand's most-hugged giant vegetable, the famous Ohakune Carrot standing at 7.5-metres tall.
Finally, we finished the weekend off with a trip to The Powderkeg Restaurant. I've been here twice now and I can confidently say it's one of my favourite restaurants in the country.
Located at the Powderhorn Chateau on Old Coach Road, this restaurant has the quintessential 'ski lodge' feel, with wood panelling and a roaring fire by the bar.
With fantastic food and a well-stocked bar, there's not much more you could ask for after a day of hitting the slopes in winter or exploring the town and surrounds in the off-season.
The drive back to Tauranga takes about three-and-a-half hours with good traffic and weather conditions, and it's quite a pretty drive. Travelling along Desert Road affords a beautiful view of the mountainous trio of Ruapehu, Ngauruhoe and Tongariro, and some spots of snow if you're lucky. You can also easily stop in Taupo and Rotorua to make your trip last a little longer.
More on The Weekend Sun...