Sharing a legacy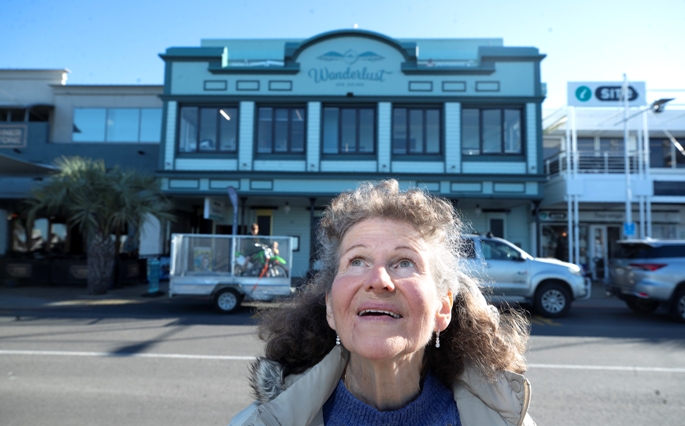 Tauranga's The Strand has changed dramatically in 110 years. The majority of the street's historical buildings have been replaced and the wharves have been upgraded, but a strong sense of history remains.
Gabrielle Gregory has a unique insight into that history and into life in Tauranga during 1911-12. Her knowledge comes from letters and photos passed on by her great grandfather, John Carleton, who emigrated from England after buying a tailor shop with his brother Joe on The Strand.
He regularly sent letters back home to his wife Alice and daughter Maggie, Gabrielle's nana. Gabrielle inherited the letters, photos and other keepsakes at the age 16, and has kept them in pristine condition ever since.
Now aged 70, Gabrielle wanted to share this history and approached Life + Style to help tell her family's story.
"The letters give an insightful, personal view of life in Tauranga," she says. "It is very rare to have that first-hand."
As Gabrielle shares her story, she reads one of the letters aloud, very excitedly and with perfect inflection.
Delving into the letters
A letter from January 17, 1912 gives an idea of how long mail took to arrive. John expected the Christmas letters sent from his family back home in England to arrive in the second week of July.
An excerpt from the letter written to Maggie – or as John called his daughter 'My Dear Pet' – reads: "It is a long time to wait, but I have had to exercise patience and I am just getting used to it.
"Our Joe and myself, we have a box of silkworms and they are very interesting. We feed them on mulberry leaves. The kids here keep them galore. Well I suppose I must keep something that has life until you all come to me which won't be long now."
Alice and Maggie emigrated, arriving later in 1912. Eventually, six of the seven Carleton children relocated to New Zealand.
A letter dated August 16, 1912 tells Maggie of John's excitement about buying a house and that when she arrives, the peach, nectarine and apple trees planted by uncle Joe will be in bloom. The letter was sent to Hobart for her to collect upon the ship's arrival.
Part of it reads: "I am just sending you a line to Hobart because it is a long time since you left home. Well you would have seen flying fish, dolphins, whales and everything, but a big crowd of people."
John talks about the train ride from Wellington to Auckland the family will take after arriving by sea. He shares news about the hoards of fisherman on the wharves just yards from his shop, and how his business is growing and men "think nothing of paying five pounds and five shillings for their suits".
The letters show a doting father brimming with excitement about his new life, but also someone that is missing his family dearly and is counting the days until they are together.
Sadly, John Carleton died two years after migrating to Tauranga. He never recovered from a stroke, but his family went on to flourish and create a rich history for themselves.
Gabrielle grew up on a dairy farm in Ohauiti and remembers going to the movies at The Odeon on Friday nights. She also recalls Devonport Road was the place to go for shopping.
"It was the place to be on a Friday night, it was always open," says Gabrielle. "You went out with your girlfriends on Friday nights and you bought things and had a neat time."
More keepsakes
As well as the letters, written in cursive with the paper yellowed from age, Garbielle has needle craft and crochet journals filled with patterns and pointers.
The ads in these journals offer everything a woman of the time could need; wool, needlework novelties and haberdashery supplies, as well as stores selling linens and corsets.
One ad extols the benefits of Beethams La-rola – "the great emollient for the skin" which "will keep the skin and complexion in a permanently clear and healthy condition".
This ad shows how much has changed in a century but also how little, with ads in 2021 regularly touting products that will give women's skin a healthy glow and perfect complexion.
Amongst the letters and catalogues is a series of postcards, showing wharves and buildings on The Strand.
One postcard shows the wharf laden with butter awaiting shipment and men pushing trollies of cargo, with a horse and cart waiting in the background.
Another is an aerial view of the entire street in 1919. A strip of grass and walkway run parallel with the water, with trees evenly planted along the route. In the corner of the photo at No.1 The Strand, The Guinness Bros bond store can be seen, which was used to store imported goods. The 138-year-old building is still standing, and is the oldest commercial building in Tauranga. It is now owned and operated by Sun Media for our offices.
The postcard shows how people's histories can be intertwined in the smallest way without them even realising it.
More on The Weekend Sun...