Heights, wine and kai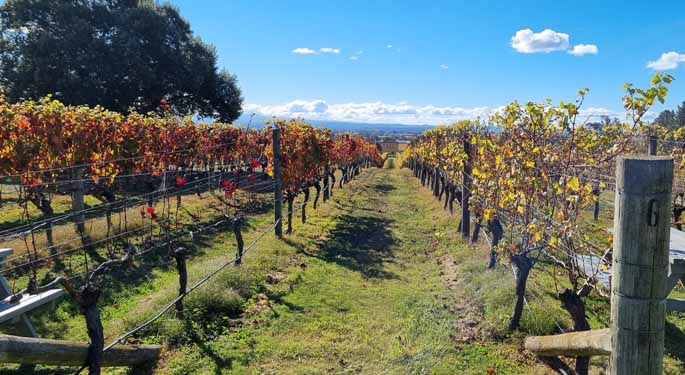 A weekend away in Napier for our 10th anniversary seemed like the perfect place to celebrate, seeing as we hadn't been there since before we got married.
The trip from Tauranga is really easy, with great sights along the way. Driving past the Te Ahi Tupua sculpture in Rotorua is always a highlight for me. Also, as soon as you leave Tauranga drivers seem to get more polite!
After checking into our hotel we ambled along the waterfront into town, stopping to admire the sculptures and views towards Cape Kidnappers and the Māhia Peninsula as well as taking the obligatory selfie at the pier.
The 3km esplanade is well thought out, connecting The National Aquarium and the nearby skatepark and bike tracks with the city centre. There's also playgrounds, and the contemporary artworks blend in well with the iconic soundshell, the Tom Parker Fountain and Pania of the Reef statue.
We headed to The Emporium for drinks, which is located in the Art Deco Masonic Hotel. Like most places in the city it embraces its roots and is filled with trinkets of years gone by.
Old suitcases, bikes, biscuit tins and photos fill up empty spaces on the walls and shelves, while some of the bar leaners are filled with tin toys, shaving kits, pill boxes, cigarette cases, games and other 1920s and 30s memorabilia.
A great way to keep the kids entertained would be to get them to write down all the different things they can see, while you enjoy a tipple from the extensive drinks menu.
Finding most of the restaurants were full we headed to Lone Star, where you're guaranteed a table and the food won't let you down.
A trip up Te Mata Peak was on the cards the next morning, and for someone with a huge fear of heights, I think I did well to stay up there and enjoy the 360-degree views for around an hour.
The husband braved the walk along the cliff edge while I cautiously remained around a metre from the barrier at all times.
You can walk or bike from the base to the top up a number of different tracks, or head to the peak in your car. Walks range from an hour up to two-and-a-half hours, and biking trails vary from grade two to grade six in terms of difficulty. A stop in the Redwood Forest is also a must do.
We tried to grab a coffee at the cafe on the way back down, but were told they were too busy and could only serve cold drinks. It was a sign of things to come in the day ahead.
We planned to spend the afternoon at Havelock North wineries, so headed to Craggy Range for a tasting.
The expansive lawns and small lake looking back towards Te Mata Peak are impressive.
Our Subaru seemed somewhat out of place amongst the McLarens, Ferraris and Lamborghinis, but we parked next to another Japanese car to try and blend in.
The Cellar Door was incredibly busy so we didn't get the tasting we were hoping for, but we enjoyed the surroundings for a few minutes.
We daringly ignored the multiple warnings we had been given about booking for lunch at any of the vineyards. I didn't expect it to include tastings as well, but I've learnt my lesson.
Te Mata Estate's Cellar Door is no fuss and welcoming, and despite the room filling quite quickly after our arrival, the sommelier was friendly and quick to make a joke. My top picks were the 2020 sauvignon blanc and viognier.
At most of the wineries a tasting will incur a small fee, but this can be redeemed by each purchasing a bottle of wine or spending a certain amount.
Black Barn Vineyards was next on the list, but with our lack of lunch booking we could enjoy a view of the vines and nothing more.
With the husband getting slightly frustrated at the amount of times we were being turned away, I took to Google and found Smith and Sheth. A quick call advised us there was availability.
What we weren't told is the tasting of five wines would take an hour and be so in-depth that you hear about the soil type the grapes are grown in, how much sea air and salt they received while maturing and the exact percentages of yeast and malic acid the wines contained.
While this might be a wine connoisseur's heaven, it wasn't ours. I received dirty looks but also amused giggles from the husband, and seeing as we hadn't eaten it was time to leave wine tasting behind.
A quick stop at the Rose and Shamrock pub ensured full bellies and a decent pint.
It was back to Napier for dinner at Market St, where walk-ins are accepted and you can enjoy everything from burgers to sous-vide pork loin. We grabbed a tasting platter to enjoy a bit of everything and weren't disappointed.
We loved everything about Napier - especially the CBD, which is well considered and fully embraces its art deco culture. Even the street signs are in an art deco font.
My advice is to book restaurants and wineries well in advance, especially if you can't handle rejection.
Hawke's Bay really lives up to its name as food and wine country, and we won't be leaving it 10 years between visits from now on.
More on The Weekend Sun...