Steamtember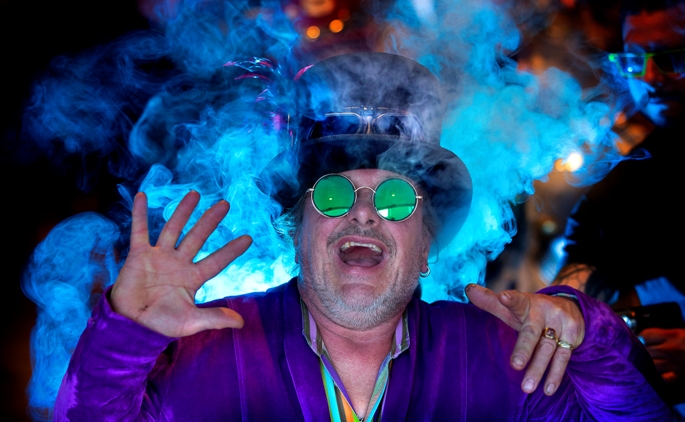 Renewing wedding vows steampunk style makes perfect sense in this uncertain world, where upcycling and repurposing is all part of adjusting to the turns in life.
Mick and Lindsey Morgan are just one of the six couples renewing their wedding vows this September during a steampunk 'Blue Do' weekend.
"I can't believe we have been married for 25 years," says Lindsey. "We have been having way too much fun."
She says she "absolutely" married her best friend.
"He is my world. He makes me laugh every single day, without fail."
Due to their shared interest in the steampunk genre, they are active members of Steampunk Tauranga and are busy helping organise the group's annual Blue Steamtember – in September – which focuses awareness on supporting prostate cancer work.
The weekend begins with a Friday evening 'HAG' night at their regular Wharf Street bar, The Barrel Room.
"HAG is a combination of 'not a hen party and not a stag do'," says Lindsey.
Punkers and 'Re-do' couples dressed in plenty of blue will be teapot racing outside the bar and enjoying the camaraderie that has sprung up since the group started.
The next morning, following an 'op shop 'til you drop' event around Tauranga's charity shops, a 'Re-Do' wedding will be held at the Tauranga Yacht and Powerboat Club, with six couples renewing their vows steampunk style.
Wedding celebrant and JP Rosemary Sloman, herself a Tauranga Steampunk member for the last five years, will be performing the ceremonies, dressed up steampunk style.
"A lot of them are coming up to milestone anniversaries," says Rosemary. "One couple are at 40 years, another 30 years, and another 25."
She likes that there's a 'broad brush' of people that come together in the group.
"Steampunk Tauranga is not ageist," says Rosemary. "It's not sexist. It involves singles and families, and all of us are really creative.
"Most of us are trying to save the planet, so there's a lot of recycled bits and bobs that we reimagine and create."
She works with couples to help create the wedding magic they're looking for.
"One of the things about this [steampunk] ceremony, in these unsettled times, is that it's quite special that people want to reaffirm their commitment to each other.
"None of these couples are doing this in a flippant way. The fact that they happen to be interested in the steampunk genre is just one of the things that brings them together."
Following the Saturday afternoon vow renewal service, it will be party mode back at the yacht club at Sulphur Point, as steampunkers in full blue-themed gear groove to live music from popular local band Shabang. This is Steampunk Tauranga's main Blue Do event for the weekend, and the theme is Aeronautica.
The Barrel Room bar manager Virgile Meiller serves Lord Buckle. Photo: John Borren.
Industrial beginnings
For those who are unsure what 'steampunk' means, it is a subgenre of science fiction that incorporates retrofuturistic technology and aesthetics inspired by 19th-century industrial steam-powered machinery.
Steampunk style comes from the idea that technology never developed past the steam power of the Victorian era in England, and that science and industry took a different turn. Bowler hats, brass fittings, waistcoats, corsets and goggles all contribute to the 'what if?' alternative history and nature of things that happen in steampunk. The aesthetic is also inspired by the Belle Epoque in France from 1871-1914, and the Civil War era in the United States in the 1860s.
Richard Parker, the el supremo designer at Black Chilli has become captivated by the steampunk theme, creating top of the range props for hire for Saturday night's Aeronautica that could be found on any movie set.
"It's a great theme," says Richard. "I would look at steampunk and think 'that's cool'. And I realised props have to look like they're going to work."
Re-Do in reverse
His steampunk throne, ideal for a photobooth, has been created with a fuel tank.
"It's got a little engine in it, so it looks like it works," he says.
As well as lighting up, there's a working fan and potential for a smoke machine to pump 'steam' out of the top.
Nearby, a snakeskin corset is cleverly wrapped around a giant martini glass that doubles as a pedestal table. There's a plague doctor and other props that he's keeping secret until the Blue Do.
"I've just designed and built them as I've gone along, based on the steampunk theme."
For those looking for even more fun, and perhaps those that want to reverse their earlier 'Re-Do', there will be an 'Un-Do' breakfast on Sunday morning at Raft in Chapel Street. Lindsey, however, is unlikely to 'un-do' her renewal with Mick.
"Renewing my vows is committing myself to him all over again, confirming that I will look after him, love and care for him always," says Lindsey.
"Just saying these words has got me a bit choked, I can't imagine a life without him."
Blue Steamtember is an annual event run by Steampunk Tauranga to raise funds for and awareness of prostate cancer. The weekend's events this year will be held from September 17-19.
For more information and to purchase tickets to Aeronautica, contact Leone via: slurps@kinect.co.nz or visit the Steampunk Tauranga Facebook page.
Danny and Leone Turner. Photo: Barb Lewis.
More on The Weekend Sun...