Gone to the dogs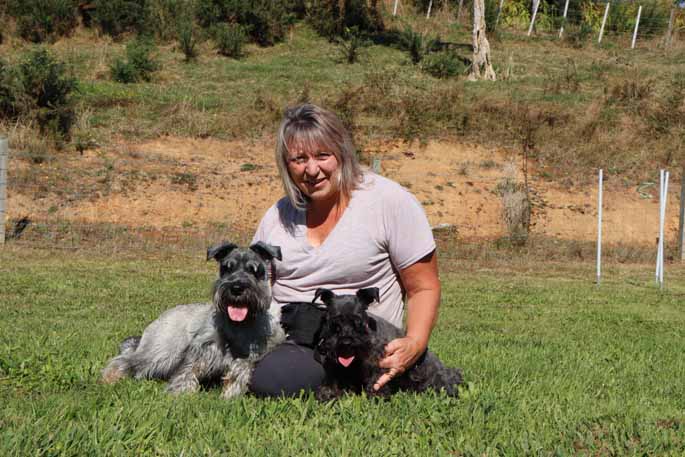 When Shelley Clark adopted her first Schnauzer she never expected it to lead to a new hobby and more than a decade of sharing her skills.
It was suggested Shelley try dog agility with her dog Tully, who came to her at 18 months old, to increase their bond.
Some 15 years later, Shelley has entered countless competitions with her Schnauzers and taught hundreds of people how to train their dogs.
Shelley took Tully to classes at the Tauranga Dog Training Club, where they did agility for fun. Then they moved on to competing.
Teaching dog training started when Shelley helped out with the club's foundation classes, and soon she began taking classes on her own.
She has been at the Tauranga Dog Training Club since 2005 and teaches a weekly class.
Why Schnauzers?
Shelley has had Schnauzers for 16 years and loves their loyalty, quirkiness, their sense of humour and protective nature.
"Once you have a Schnauzer you won't go back," she says.
Schnauzers are not typically used for agility - border collies or heading dogs are generally the canine of choice for such activities - but Shelley has done it with all of hers.
If you visit her Whakamārama property you can see her two hounds, Gucci and Prada, whipping around the agility course she has set up. The pair have weekly classes at the Tauranga Dog Training Club as well.
On occasion she has been told to "get a real dog" by other agility competitors, but she finds that "a little bit offensive".
Despite the occasional judgment about her choice of dog, Shelley loves the friendships she's formed through the club and the dog agility community.
While Prada is often more interested in looking for rabbits at their home agility course, and Gucci prefers cuddles with residents at the rest home where Shelley works, she has worked hard with them. As the dogs clear each obstacle on command, you wouldn't think they have other priorities.
All training requires repetition and rewards, and for most agility dogs the ultimate reward is a game of tug. For Gucci and Prada, food is their chosen reward.
"Mine work for food," says Shelley. "They have a higher goal."
Gucci is a miniature Schnauzer while Prada is a standard, and they have multiple ribbons from wins at dog agility competitions.
Each of Shelley's dogs she has trained for agility will have an area they can improve on, so with the next dog that will be a focus. She is always learning.
Prada competing. Photo: K mountain Pics.
How to train your canine
When it comes to training dogs, it's more about teaching people how to train rather than training the dog itself says Shelley.
"Training the dog is probably easier than training the person," she laughs.
"People don't realise that it's actually quite hard because you've got to do homework. You've got to be consistent every day.
"It's a little bit harder than just coming to a class once a week and expecting the dog to learn it."
Shelley says training is good for bonding, exercise and mental stimulation for dogs.
"It's really good for mental stimulation, especially for high-energy dogs because it can tire them out just as much as going to the beach."
If you get them thinking, they'll tire and settle quickly, she says.
Shelley also enjoys seeing the connections people create with their pooches during training.
All about agility
Agility training involves teaching dogs to navigate obstacles off lead with accuracy and speed. Common obstacles are tunnels, seesaws, jumps and weave poles.
For agility, dogs need to be at least 18 months old so they don't injure themselves while they are still growing.
There is a lot of training that can be done prior to this in preparation, which is done to teach control and connection, says Shelley.
When getting into agility it's important to do it through a club or with a trainer, because they understand a dog's structure and will do things safely, she adds.
When competing, a dog must complete an obstacle course of 16-to-25 obstacles and points are lost if a dog doesn't go over an obstacle correctly or refuses. Rounds are timed and judged, and the fastest clear round wins.
The Tauranga Dog Training club started 45 years ago and has around 30 members that compete in agility. Club members range in age from their 20s to their 80s.
The club offers puppy and obedience classes for dogs aged three months and older, as well pre-agility and agility classes. The Mount Maunganui Dog Training club offers similar courses.
Interested? Visit: www.dogagility.org.nz to find your local club.
More on The Weekend Sun...