Jamie Harkins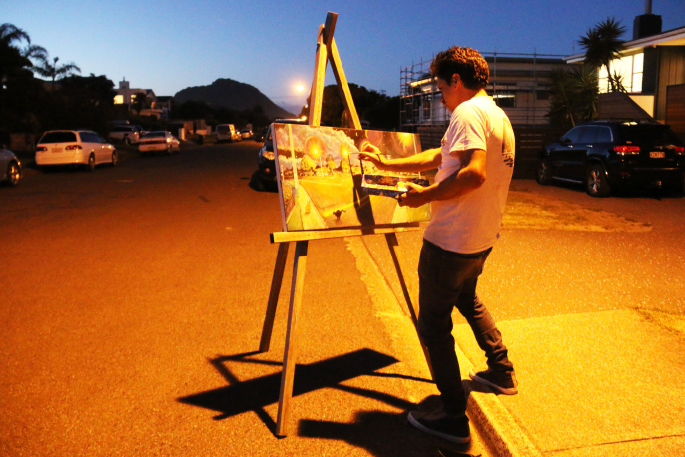 Jamie Harkins has been painting Mount Maunganui street scenes at night, getting ready for an exhibition in February.
But he's not painting the main tourist tootle along Maunganui Road and around the beach roads.
Instead he's slipped into the mid-roads, the ones that locals mostly know and use. Grove Avenue, Moa Street, Tay Street, Sullivan Road, around the back of the Mellick and Tweed Street. Houses, mailboxes, intersections. Capturing the nightly inky blues and golden hues from the street lights. And he's lifted from the footpaths the cats that come out to play - a soft brush flick and felines appear on canvas, their ginger and black fur smudging the evening scenes, tails flicking with mischief.
Jamie's night time landscapes transport you into a quiet world of stilled Mount Maunganui streets illumined by the moon, with shadows cast across garages and solitary parked cars. Hydrangeas, low shrubs and concrete paths are sensed, more than seen, slipping back behind the houses, windows reflecting the shine of nearby lamps.
"I'm trying to give the Mount another identity other than surf, summer and tourist locations," says Jamie.
"The locals who live here know how great winter and night time is because the crowds are gone, there isn't all that noise, just you and the town."
"I feel like I know the Mount so much more because I've painted each tree."
Jamie paints at home, a house he shares with two other flatmates. Outside, a family of tui sing gustily from a pohutukawa tree, mint grows from cracks in the concrete, pots brim with succulents, and Fuggles the cat curls up in the warm sunshine. Over the wooden picnic table grape vines start to sag with the coming harvest and fairy lights wind around, adding a night time warmth to the scattered sculptures and outdoor mural. Jamie spends a lot of time painting on the floor of his lounge, through the night, with movies playing in the background.
"For this exhibition I wanted to do the opposite of what's been done," says Jamie.
"Everyone is into the whole facade of beach, surfing and tourism. But what's local? Streets, cul de sacs and intersections. It's about getting people to focus on the here and the now of where we're going and what we were.
"When you go out at night and there's no one around, you get those moments of clarity. I'm trying to get that clarity across, through colour. The colour of night."
He wanted to create a time capsule of work, especially for locals to enjoy.
"There's so much changing here with buildings and streets," says Jamie. "We know it's all going to be gone or changed five years from now. I thought the locals might like to buy these. Creating a time capsule of now and holding it so they can look at it and say 'that house used to be there'."
Jamie has been painting for years. An early exhibition where he sold everything turned into commission work, and a part time job at Tay Street Café helps bring the creativity back into his painting.
He's worked in chalk, pastels and oils, and for this next exhibition, to be held at Float Antigravity Fitness, he's using acrylics. He's developed his own unique technique.
"I work by layering – it's a very slow technique," says Jamie. "I paint the canvas black, then go over
it with snail trails of white. I go over it more than 30 times. The last process is layering colour over top of that."
He finds the time-consuming layering results in the painting looking different under different lights.
"It's drawn out, with a lot of hours on the lounge floor watching movies while I paint. When I look at different sections of my painting, I can see that movie or show. "
His bachelor degree in media arts included film making, painting and a variety of media.
"I love editing film," says Jamie. "That's probably my favourite thing."
His grandmother gave him an old camera and six reels of film from the 1940s/50s - undeveloped film she was given by her second husband.
"Her second husband was French, and part of the French resistance. His father was in a concentration camp. He got papers and uniform and went in there pretending he was a German officer, and got his father out. The films are from that period, or from when he came to New Zealand after the war. We haven't had a look at them."
He'd love to know what's on the films.
The main reason for working towards an exhibition, where around 15 of his night time paintings and 15 prints will be shown, is to save money to buy a motorcycle. Then he'll head off on weekends to find beaches where he can create sand art and, ultimately, produce a coffee table book.
Well-known and respected globally for his three dimensional sand art drawings on the Mauao beach, Jamie is keen to find new scenery and different coastlines and beaches.
"Talk to the locals, find their local tradition or legend and come up with a local story for their beach - I need to do that in the weekends. So I'm doing an exhibition to fund a motorcycle, which will get me to the sand art, and then the book. It's like a five year plan."
More on The Weekend Sun...