Jannine Bishop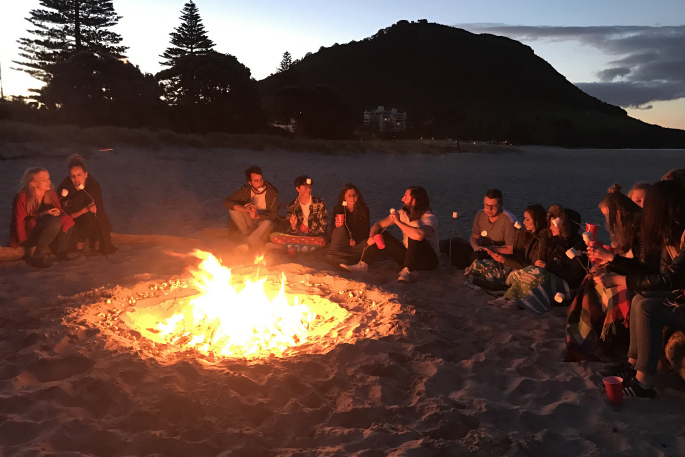 My idea of a Mount Maunganui beach bonfire scene for a music video was simply a few logs thrown into a heap, with people sitting or jiving around it on the sand.
I dragged driftwood together into a pile, texted Jannine Bishop, who was in charge of set design to let her know where it was, and left to cone off a carpark for another scene.
I knew she'd be down weaving her magic, only I didn't fathom how stunning it would be.
On returning, there was a hollow in the sand, edged with seashells for a fire pit, and the logs were now turned into seats draped with Mexican style rugs and embellished with exotic djembe drums and shakers.
It was romantic, captivating and definitely magical.
This high attention to detail defines much of Jannine's approach to the art form that is film. A production designer is the head of the film's art department, taking information from the director, conceptualising it and facilitating the creative vision to give the film or music video its unique visual identity. But she hasn't always been an art director.
On leaving school she started hairdressing, before moving to Auckland and becoming a barber. She learned to make wigs in a hair clinic as well as coloured glass at Sauvarins in Kingsland.
Then in 1993, she began working for Pacific Renaissance Pictures.
"They were the Hercules Xena people," says Jannine. "I started off as a receptionist then became a production runner. Then I did third AD on set before I got into the art department, and that's where I met Anton Steel as we were art department runners together."
A third AD is the third assistant director – someone who manages the movement and activities of the extras or background actors on set.
"A runner is the person who runs around buying things, taking them to set," says Jannine. "You start the day picking up the cast. You visit each department, - cameras, lighting, wardrobe, - and basically see if they need anything. They might want you to pick up film stock, or go and buy hessian.
"About 4pm in the afternoon, you'd have to drive to South Auckland, pick up the lights for the next day and deliver them to the studio. They're really heavy.
"Then you get the call sheet to set on time before everyone has wrapped and wait for that day's rushes. The camera people would be in the truck getting the canisters into the dark room. That was a very responsible job, taking the day's footage in the cans.
"You wouldn't want to have an accident as they're like the crown jewels. We'd take them to the lab.
"I really enjoyed the variety. The phone's ringing all day. You might have to go pick up the American cast from the plane, take them to their hotel, set up their rooms and put in a special television so they could see the daily rushes.
"You'd fill up their fridge with food, and usually I got a bunch of flowers. Also set up a fax machine so they could get their call sheet for the next day.
"Going between the production office and locations is a fantastic insight into what each department does and how they operate. You'd be taking costumes to set or someone would ring up and off you'd go.
"Art department runners service the prop shops and art department, so they'd go buy fabric or whatever was needed.
She coordinated the runners, then the props department. "That was a massive job on Hercules, keeping track of 500 swords," she laughs.
"You got to meet some pretty amazing and famous people. Lucy Lawless just had that special something, that thing that made you know she was going to be a superstar. She's so funny, she'd crack me up."
Jannine left the Xena set in 1999, moving on to be the art director and production designer for Street Legal.
"It involved a lot of locations, and we didn't have the budget that we had with Xena which was a bit of a shock. We had to get sponsorship and borrow things. But half the fun was being resourceful."
She decided to complete a certificate in design, learning model making, jewellery making, furniture making, pottery and art history.
To subsidise her student allowance she worked in a barbershop once more, and that's where one day, her future husband Mike walked in.
From Tauranga, he regularly travelled to Auckland for business. By chance he happened to choose the barbershop on the exact day that Jannine was there.
After marrying and having children, Jannine got involved in creating art at The Incubator at the Tauranga Historic Village. On seeing a notice from Anton Steel asking people to be involved in filming the Z-Nail Gang, she renewed contact, and the collaboration with Anton and others grew into an idea for starting BOP Film.
Jannine is a key operational crew member of the BOP Film Trust and has a vision to establish art department capabilities in the Bay of Plenty with the team of people she is gathering around her.
"BOP Film is very lucky to have Jannine," says film director Paul Innes. "She has the capacity, experience and ability to manage the art department for really big productions."
More on The Weekend Sun...