Magical Maketu - A day away in the Bay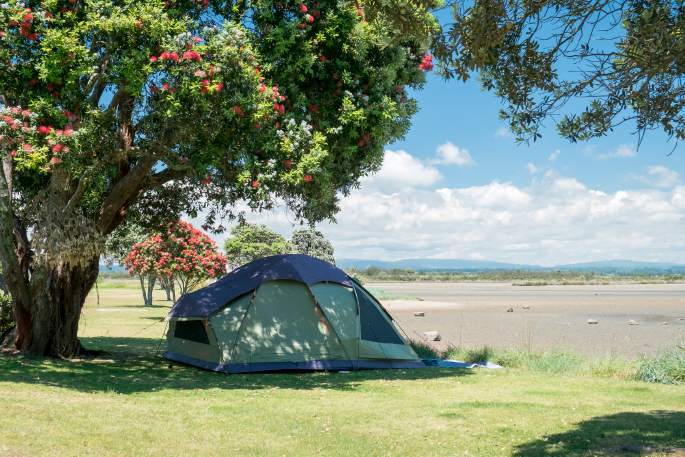 Magical Maketu is located on Okurei Point, just 20 minutes away from Bayfair.
The Tauranga Eastern Link has pulled this coastal town closer to Tauranga, and along with it Newdicks Beach, which is on the south-eastern side of Okurei Point; and Little Waihi.
I know it's only 20 minutes, because our photographer Bruce Barnard drove while I held the stopwatch. With the new 110km speed limit starting, there could be another minute shaved off.
Maree Lewis, who used to own the local takeaway shop with husband Tom, gave a history talk over fish and chips to a gathering of descendants of settlers
who arrived in NZ before December 31, 1865.
Tom and Maree Lewis
I went along to hear it, and found the English part of me fitted right in, as my 'great-greats' George and Cornelia Harvey emigrated from Somerset in 1856.
"In early times Maketu was a busy little port, and the ocean and estuary were teaming with fish," says Maree. "The surrounding valleys were very fertile. The low-lying countryside used to be swamp when Tom and I lived here."
Described now as wetlands, according to Maree it was once covered in head-high flax.
"All the way from Papamoa to Whakatane. Through this flax Maori had tracks to Rotorua, Matata and through Te Puke to Tauranga. Most of those tracks you would be driving on today - they have only slightly been altered."
Bubs and Ian Foden, who have managed the Bledisloe Holiday Park in Little Waihi for 17-18 years, reckon the Tauranga Eastern Link has shaved 12 minutes off their usual trip to Tauranga.
Little Waihi is the little sandy peninsular jutting south-eastwards into the Waihi estuary, east of Maketu, and has been one of the most popular beach resorts for camping, picnicking, swimming and fishing in the Western Bay of Plenty. Across the estuary is Pukehina, about 25km by road.
Little Waihi
Bubs broke a jandal about three years ago.
"We all have a cup of tea and a chat in the morning at about 8am, Ian and Norm, and me. I said 'oh no I've broken my jandal.' Then I thought 'I'll start a jandal fence!' Well they looked at me as if 'well here she goes, having one of her moments'. So I did. I started a jandal fence."
She takes us out back of the camp shop to see the local opera house. An old tin shed on wheels, it carried hay years ago. Visiting Australians named it the 'Outback Opera'.
"People from Maketu borrow it, and take it over on an old tractor," says Bubs. It opens up to reveal a stage area and is used for beachside events.
'Outback Opera'
Back at the Maketu Beachside Café, manager Maraea Kiel, originally from Matakana Island, enthuses about what she calls 'magical Maketu'.
"We have 40 bus-loads of 40 cruise ship passengers coming through this season," says Maraea. "They come here for our seafood chowder and fish and chips, and of course our million dollar view."
Maketu Beachside Café manager Maraea Kiel
She looks out towards Matakana Island.
"I can see home from here," she smiles. She mentions that the beach below the cafe is perfect for swimming and surfing. Nearby are toilets, showers and changing rooms with life guards working over the summer.
Maraea often shares with visitors the earlier history of Maketu which is the traditional landing site of Te Arawa canoe more than 800 years ago, when several migrations came from Polynesia. Maketu is named after an ancient kumara pit in Hawaiki – the place from which Maori originally sailed their waka to New Zealand.
John and Marion Newton enjoying lunch at the Maketu Beachside Cafe
"You will spot a diving platform in the middle of the channel where the Kaituna River flows out into the ocean," says Maree. "It sits on top of the Takaparore rock to which the bow of the huge canoe was fastened when that voyage ended. The stern rock – Tuterangiharuru - which was visible in the 1950s is presently covered by sand. It's around to the right of the motel and camping ground.
"The early people made their homes on the hilltop. When James Cook passed by he observed that there were thousands of people living on these hills."
We drive up to the point above Newdicks Beach. It's possible, on a clear day, to see from the Mount to the East Coast and out to Whale Island and beyond.
The private road descending through pohutakawa to the beach below is maintained through donations from visitors. Quail run ahead, as we wind down to one of the most beautiful beach spots in the Bay - a surfer's secret and great for swimming.
One toilet, cliffs, rock pools, sand dunes, large boulders and a stream flowing out onto the beach, Newdicks Beach also has an iconic pohutukawa tree that locals try to preserve despite it being undermined by storms.
The Maketu Ongatoro Wetland Society – MOWS - works with other organisations to maintain the natural ecology, and ensure NZ dotterel, shags and little blue penguins can safely nest.
Over the summer, we recommend escaping to Maketu for a coffee and a swim, and take some time to learn a bit about some of our early Maori and European history.
(Photos by Bruce Barnard)
More on The Weekend Sun...