Minden Makeover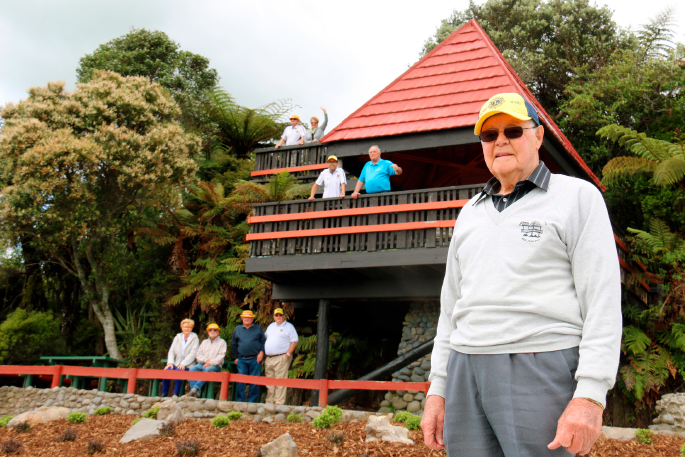 The Minden Lookout has had a makeover in time for summer.
The lookout at the top of Minden Road was built 40 years ago in 1977 by the Bethlehem Te Puna Lions and opened in 1978. Back then they were known as the Omokoroa Te Puna Lions.
Brian Wright was president in 1978 when the lookout was finished.
"There were three presidents involved," says Brian. "One during the planning and start, one during the build, and I was involved when we finished it."
Approximately 10 km west of Tauranga, the Minden Lookout is situated about 240m above sea level, just off State Highway 2 in Te Puna, and boasts views of the Bay of Plenty, Tauranga city and the surrounding communities.
The multiple levelled viewpoint structure features both covered and open air space, with some picnic tables below. One of the highlights, apart from the stunning outlook, is the circular metal map showing the names of nearby islands and locations.
Considered to be one of the Western Bay of Plenty's landscape jewels, the Minden Lookout has hundreds of visitors per week, with some of the local tourist operators including it in a bus tour of key attractions for cruise ship passengers.
Ian Calvert, a member of the Lions Club, is also a driver for a local tour company.
"I think there are probably at least three 40-seater bus loads for every boat coming up here," says Ian. "After stopping at the Minden Lookout, they go to McLaren Falls, back to Mossop's Honey then often they go on to the Tauranga Historic Village and The Elms."
The Bethlehem Te Puna Lions continue to maintain the Minden Lookout, with their website recording clean ups and maintenance carried out in 1993, 1997 and 1999. In 2014, painting was undertaken as well as the replacement of the stainless steel direction sign after it had been damaged.
In August 2014, the Bethlehem Te Puna Lions celebrated their 40th Charter Anniversary with a commemoration service at the Minden Lookout.
This year, Western Bay of Plenty District Council have smartened up the parking area in time for summer, and built a footpath to keep visitors safely off the roadway while getting off the tourist buses.
The gardens have also been replanted by council, with old shrubs replaced with new.
No longer tired looking, the Minden Lookout is refreshed and ready for summer.
More on The Weekend Sun...