Meeters and Greeters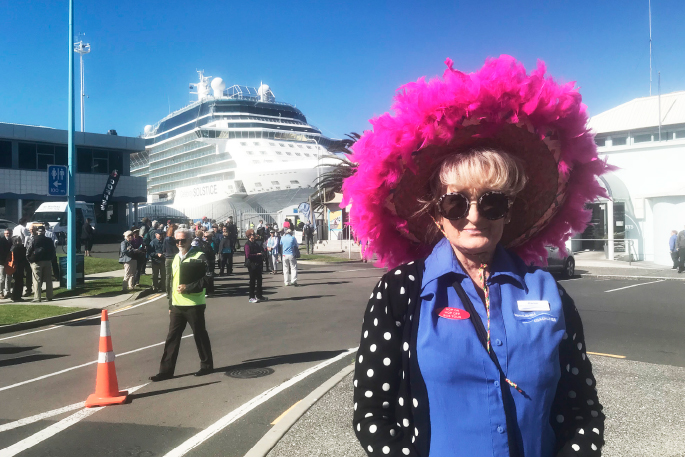 Cruise ship season got underway with the arrival of the 108,865 tonne Golden Princess on October 10. Over 80 cruise ships and thousands of passengers are expected in to the Port of Tauranga over 70 days, with two or three cruise ships coming on the same day, and at least one overnight ship. Tourism Bay of Plenty head of marketing, Kath Low, expects the economic impact for the region to be approximately $45m.
On disembarking, passengers are greeted and met by a range of ambassadors, guides and tour operators.
Natalie Rikirangi and her family are contracted to pose for photographs with passengers. Nearly 400 photos were taken on the first day on the job as tourists engaged with the group, who are affiliated to three local iwi.
Nearby is Bethlehem Coachlines 'The Pink Lady' - Kathryn Bushbridge. Usually Karen Beaumont is in this role, but occasionally, when she is not available, someone else steps in. On another day Trevor, who wishes to keep his surname anonymous, finds himself gloriously and rather reluctantly behatted.
"Well, the tourists are told on the cruise ship to look out for 'the lady in the pink hat'", says Karen. "So when they get off and are trying to find where we are, if we've got the hat on, they see us straight away."
The 'Pink Hat Lady' has become an iconic feature of the collective of tour operators who vie individually for the attention and custom of passengers.
Barry Lusher has been a smiling friendly face for the last seven years. He's recognised as the one in charge.
"The prime thing is health and safety," says Barry. "I look after the positioning of the buses and tour operators so they park properly. Passenger safety is our priority. I'm also an ambassador meeting and greeting them, guiding them to where they want to go."
He quickly turns to meet some passengers who look mildly dazed and puzzled.
"Can I help you?" he greets them with a bright smile. Moments later, happy and relaxed, they set off in the direction of their tour bus.
Salisbury Avenue is closed until about 10.30am on the first day as new staff and tour operators 'learn the ropes'.
"After this, the road closure bookings are made through Tauranga City Council and will be publicised," says Barry. "Usually because of more than one ship in port."
The business of where the tour operators and buses can park is often hotly discussed among the drivers. There are rumours that some of the larger buses are allowed directly into the port area this year, ready to whisk away large numbers of passengers direct to Tauranga's CBD.
Smaller vans and tour operators meet around dawn at Blake Park for what they call 'the draw', which determines their arrival order at Salisbury Avenue. Dedicated numbered parking is provided inside the wharf car park on The Mall. Every ship day they enter a new draw.
"That's so someone doesn't pinch the best spots every time," says Barry. "This makes it fairer."
The larger buses usually park outside the police building on Salisbury Avenue and along The Mall. Again, this is about public safety.
Jennifer Hayes and Christine Potter, volunteer guides from the Lioness Club Mount Maunganui and District, are also there on the first day to greet passengers.
"We have two-to-three people meeting each ship that comes in with passengers over 1000," says Christine, who coordinates about 30 volunteers in conjunction with Mount Mainstreet.
"We welcome them, see if they want any help with anything, and point them in the direction of our beautiful Mount Maunganui walks, shops and hot pools."
This is very helpful given that when passengers disembark, one of the first street signs they see reads 'The Mall', and points in the general direction of Mauao. A misunderstanding can ensue at this point, as the word 'mall' conjures up the idea of a vast shopping complex located somewhere around the Mount Hot Pool area.
Passengers have been found looking lost on the corner of Commons Avenue and Maunganui Road, after circling the block. On asking if they'd like assistance, there is usually an explanation similar to 'I was just wanting to go to the chemist to get some new sunglasses', before pointing them back in the direction of Mount Main Street.
The Pepi Toot train and a large seated motorcycle provide tours around the beach and shopping area, giving visitors an overview of the Mount peninsula. And everywhere, friendly faces greet the one-day guests.
"We love it," says Christine. "We're so proud of our area and just want to promote it. People say it's so nice to have lovely, welcoming friendly faces."
More on The Weekend Sun...