Ear rubs for accommodation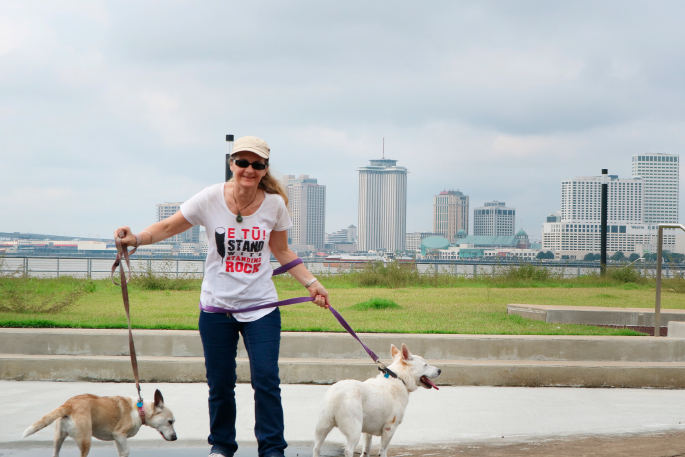 It sounded too good to be true. Ten nights' free accommodation in San Francisco's trendy and bohemian-chic ocean-side suburb of Outer Sunset.

My own large, one-bedroomed self-contained apartment underneath the owners' house. In return? Five nights' house-sitting and dog-minding.

It wasn't the only house-sitting offer that made me ask 'what's the catch?' Like two weeks free accommodation in the funky Bywater of New Orleans, just a short bus ride or a half-hour stroll to the French Quarter. Or two weeks in a large Texan home, less than a year old, in the surprisingly green and quite gorgeous Austin.

And, for a different if somewhat chilly experience, two weeks in a lovely one-bedroomed apartment in Seattle while the leaves are in their peak autumn glory (or fall, as the Americans call it).

Often, when people first hear of house-sitting as a method of keeping travel accommodation costs down, they're wary. Why would someone let a stranger live in their home and look after their fur babies while they're away? There are reasons. Good reasons.

The first is the fur babies themselves. When their hoomans go away, it's much less stressful on the animals to remain in their own home. Mommy and Daddy's absence isn't compounded by strange surroundings, strange dogs and that nasty little yappy chihuahua that attacks everything, including its own shadow.


Then there's the cost of kennels. Barbara and Larry have two big dogs who need an hour's walk both morning and evening. The cost of the kennel down the road is $70 per night per dog (and that's outside holiday time – holidays are $100 a night), plus $40 per hour per dog for walkies. For five nights, that's a total of $1500 for both dogs. And that's US dollars – which comes in at around $2200 NZ dollars.

House-sitting is a win-win. The traveller gets a nice, well-kept home to stay in for free, ears to rub, cats to smooch, all the home comforts that are missing in a hotel room and Wi-Fi that works. The home owners don't have that huge kennel expense tacked onto the cost of their holiday, which can be twice or more the cost of the humans' holiday.

There are a number of house-sitting websites online. My preferred site is TrustedHousesitters. The site's rating across 7200 reviews on Trustpilot shows 93 per cent five-star 'excellent' ratings. Combine those with the four-star 'great' ratings, and you're looking at 98 per cent positivity. As for the one per cent 'bad' ratings, well, we all know those sorts of people. Queue the eye roll - there's always one!

There's an annual membership fee, which there has to be when you've grown since inception seven years ago to a business with over 30 staff, featuring house-sitting opportunities in over 150 countries around the world, but it's less than the cost of one night in a cheap hotel.

At time of writing there are 1338 listings – including 728 in the UK, 353 in the US and 307 in Australia. For more exotic locations, how about Zambia, Iceland, Luxembourg or Slovakia?

Sits range from overnight to the more common one or two weeks, through to long-term placements such as three months in Vermont in a 3500 square-foot modern house on 24 acres (no pets – just watch the heater, and turn the lights off at night); four months in a two-bedroom, 2-bathroom modern flat in North London; right through to a year-long sit in Coquitlam - a 15 minute drive from Vancouver.

For shorter sits, you can usually pick up an extra couple of nights by offering to come early, to give the animals the chance to get to know you while their owners (or slaves, if they have cats) are still there. It makes the transition when they leave much easier on the animals.


Duties for house-sitters vary. Cats, of course, are generally more easy-care than dogs. A tummy rub here, some food over there, and please clean that kitty litter out daily. Dog responsibilities depend on the dog and the location. If they're big dogs in a cooler climate, you're probably looking at two one-hour walks per day, with less than that in hotter climates.

After 20 minutes in a New Orleans August, the Australian shepherd dogs were toast. The breed might be bred for the heat, but they're bred for hot and dry. When it's hot and humid, long walks are off the table.

The fox terrier in Austin? Eight minutes. Walk her on the leash up to the front of the gated community, let her off the leash, and she'd run back to the house by herself.

The walks themselves are a great way to keep fit while travelling, and to see the neighbourhood. Take a different route every day and you really get a feel for the place you're calling home for a while.

In San Francisco, another Kiwi house-sitter who was staying two blocks away would bring her two small dogs down in the afternoon. We'd take all four dogs to the beach, let them off the leashes and they'd run and play in the Pacific Ocean together for an hour. That kind of explains why Rags slept outside my bedroom door for two weeks after I left, looking rather forlorn.

For more information on house-sitting, visit: www.trustedhousesitters.com

For hints and tips on how to write a successful house-sitting application letter, visit: www.dontwait2live.com/2017/09/06/house-sitting
More on The Weekend Sun...