One man's war on rubbish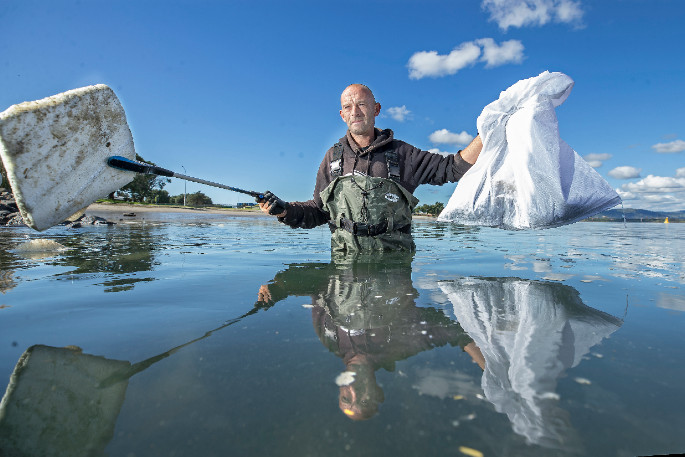 Des Watson is on a mission. A mission to keep New Zealand's waterways clean and free of waste.
Des started his journey on January 1, 2019, and more than two years later, is still on the go. Over the past week, he has been in the Bay of Plenty looking to clean up the area.
Originally from Westport, Des was inspired to start his clean up during his time living near the beaches in Rarangi, just outside Blenheim.
He would take a bucket and clean up whilst he ventured to the local beaches, and began following conservation groups and Facebook pages devoted to keeping Aotearoa's waterways clean, which cultivated his own desire.
Images of what plastic waste is doing to marine life soon inspired him to take further action and he quit his job to embark on his quest.
His passion has led to the start of a Facebook group. 'Kiwis Clean Aotearoa' is followed by more than 3500 people and documents Des' travels across the nation cleaning up, educating locals and gathering a few followers along the way.
Since arriving in the area last week, Des has been busy. A clean-up along Pilot Bay in Mount Maunganui followed a trip to Papamoa, where he removed residue from car burnouts by the Bell Road boat ramp, a waste and water pollution issue Des feels is completely overlooked.
"It gets washed away by the rain and ends up being millions of pieces of rubber that just flows straight into our waterways," Des laments.
Over at Whareroa Boat Ramp he has come across rubbish bags, abandoned tents, and, of course, the repeat offenders.
"Cigarette butts, nylon, broken hard plastic, soft plastic, plastic wrappers, bottles, bottle caps, lollipop sticks," Des lists as the most common litter he finds on his clean ups.
At times, Des admits finding it frustrating. It seems, in his eyes, that nobody wants to take responsibility for keeping the waterways of New Zealand safe from errand rubbish.
"Nobody wants to take responsibility," Des states. "I don't get paid to do what I am doing."
A Givealittle page helps Des cover the costs of his now two-year pursuit. More than $20,000 has been donated to the cause so far, with Des using the money to pay for petrol or for disposal of rubbish.
But above all else, rather than ask for money, Des has one simple request for Kiwi citizens across the Bay of Plenty and New Zealand.
"Keep it clean," he says. "Set an example for others because the plastic is also a concern entering our food chain."
To see what Des has been up to visit 'Kiwis Clean Aotearoa' on Facebook or visit his Givealittlepage atL www.givealittle.co.nz/cause/kiwis-clean-aotearoa
More on The Weekend Sun...