Scouts clearing out the trash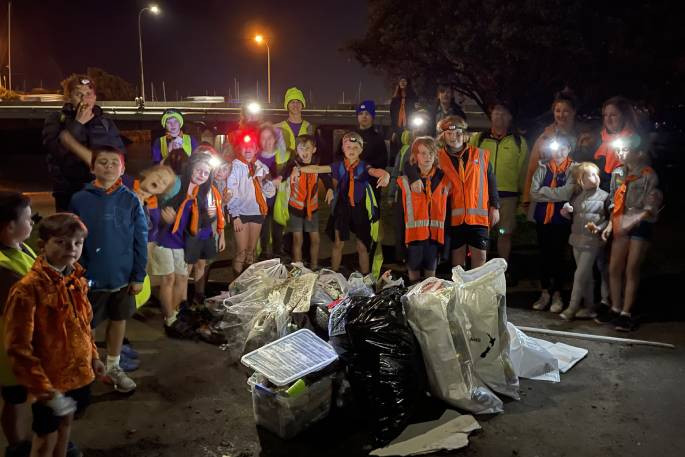 A scout group in Mount Maunganui is taking out the trash when it comes to littering, and putting residents on notice for their fly-tipping habits.
The Arataki Omanu Scout Group are taking part in the 'Scouts Trash the Trash' project, a worldwide initiative to help clean the planet and inspire youngsters to consider the human impact on the environment.
The local group have taken up the challenge along the Harbour Bridge path, joining over 1000 scout groups across the globe who have already filled more than 4000 bags of rubbish.
A group of 41 children and 10 adults from Arataki Omanu Scout Group certainly helped the cause, clearing 101kg of rubbish in just over an hour.
Christine McCahill, assistant zone leader and venturer section leader for Arataki Omanu Scout Group, says the children took up the big clean with smiles on their faces.
"Strangely, not one moan about picking up rubbish," she says.
"They were mad keen to reach 100kg and it helped they found a couple of big bags of dumped rubbish, including a car wheel and a DVD player."
Christine says the group have found all manner of items on their clean, including car parts, broken tools and the more usual suspects, such as bottles, takeaway waste, plastic containers, cigarette butts and discarded receipts.
The initiative is part of the new programme Scouts NZ has introduced, the Better World Modules, embraced by Scouting World Wide.
With the Scouts being regular users of the outdoors and waterways, keeping them clean is a major motivating factor behind the drive.
But the kids involved also have a message for the messy residents and motorists who are spoiling the outdoors they enjoy so much.
"The youth were pretty appalled that so much rubbish is right on our back door and that people think it is ok to just chuck it from their car," says Christine.
"This is the second year we have participated in this event. Last time we cleaned up part of the estuary and the rubbish was bad there too."
Overall, Christine says that the children were just happy to be helping out by cleaning up the community they live in.
"The youth like the fact that they are doing a great community service, preventing rubbish from being blown into the sea and that the area looks great afterwards."
More on The Weekend Sun...