Young BOP couple take cancer battle in stride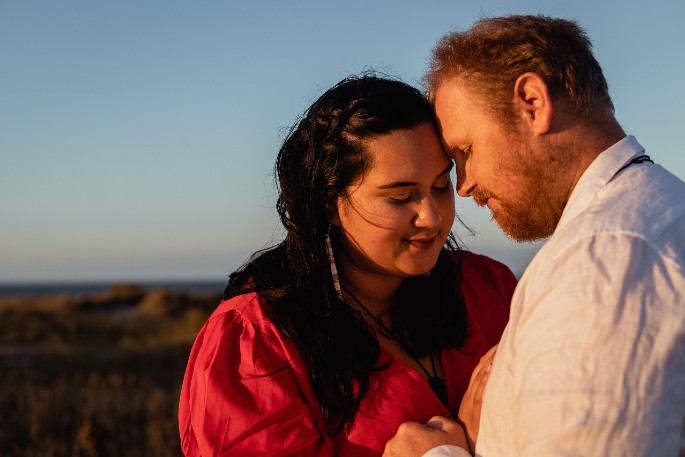 A Bay of Plenty couple are praying for remission following a devastating cancer diagnosis.
Thirty-six-year-old Riley Scown was diagnosed with myeloma, an incurable blood cancer in August 2020, mere months after suffering an unrelated stroke in January.
Sam Scown, Riley's wife, says it's fair to say "the diagnosis hit both of us pretty hard."
"My husband Riley is the kindest man I've ever met," says Sam.
"He's always the first to help anyone else, more often than not giving more to others than what he gets back, and he's got this beautiful, patient and stoic nature about him, that has a way of grounding anyone around him.
"At a time like now, I'm more thankful for this than ever before -- while also acknowledging that now is our time to give back to Riley."
Sam, who said "I do" to Riley in 2020, says they have good support and remain optimistic about getting Riley into remission.
The cancer was discovered following routine blood testing after Riley's stroke.
The tests picked up incidental abnormalities in his blood work.
His doctors pushed for further investigation, and he was eventually told that he had myeloma -- and about 60 per cent of his plasma cells were cancerous.
"A support group I'm in has this helpful explanation of myeloma: "There is a protein found naturally in all of us and one day, for no known reason, it will kind of go berserk -- it's called the M protein," says Sam.
"It turns into a monster and will start eating away at your bones from the inside out, it makes holes which will never heal, but the good news is it can be controlled, so that no further holes will appear.
"Sometimes the holes will be large enough so that the slightest wrong move or bump will cause a fracture. There is no cure, but you can go into remission. Remission is what we all pray for."
Sam says so far, the odds are looking good for Riley.
"At the moment, Riley is in the first part of his chemotherapy treatment and he remains asymptomatic.
"This is a huge source of hope for both Riley and me, and long may this last!
"His current treatment plan includes five months of oral chemotherapy, which will prepare his body for an autologous stem cell transplant, expected around June."
Sam says his haematologist has told them his body is responding positively to the oral treatment, with the SCT expected to stabilise his cells even further.
To help with ongoing treatment and financial costs, a givealittle page has been set up.
So far, $3310 has been raised.
"Due to Riley's many health struggles, he hasn't been working since January 24, 2020.
And, during Riley's stem cell transplant, I will be needing to take time off work from time to time to be able to care for, support and spend time with Riley.
"So we're asking for help ease the financial burden on Riley and me during this difficult time, so we can focus on getting Riley into remission. Any amount of koha would be truly appreciated!"
The money raised will help towards the couples financial expenses, both health-related and day-to-day, while they live on reduced incomes.
"Anything we do not need will be donated to LBC New Zealand."
People wanting to donate, can do so at: www.givealittle.co.nz/cause/support-rileys-road-to-remission
More on The Weekend Sun...