Koha tests the waters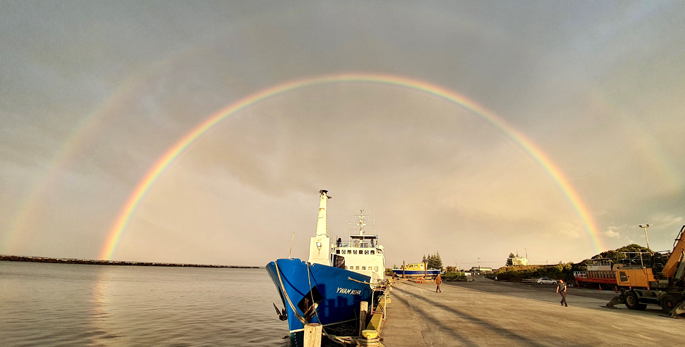 Tauranga's medical mission ship MV YWAM Koha returns to Tauranga harbour on Saturday following a successful tour of New Zealand.
"It should pull into channel right before 9am Saturday morning, weather dependent," says YWAM Ships Aotearoa Ltd managing director Marty Emmett.
YWAM – which stands for Youth With A Mission - called the promotional tour of the country 'The Final Push', an effort to raise funds to complete the preparation work that the ship still needed before it can head into the Pacific Islands to fulfil its mission.
Marty says the NZ tour, which included Lyttelton, Nelson, Whanganui and Wellington was very successful.
"We have had over 2600 people tour the ship in four ports and have hosted MPs and Pacific diplomats in Wellington.
"There is huge interest throughout the Pacific to have the YWAM KOHA come out and serve, and the ship is now fully certified with MNZ. We're engaging in direct conversation with the High Commissioners in Wellington from Fiji, Vanuatu and the Solomon Islands about a 2022 deployment to their nations."
Prior to leaving Tauranga in late February, the promotional campaign had raised $50,000, with the plan to connect with YWAM Koha NZ supporters and find new supporters to reach the goal of $300,000.
"Probably the greatest miracle - we have seen over $300,000 donated in the last four months - the final push campaign has been fully funded," says Marty.
"And possibly even greater… we now have a platinum partner, Trinity Lands, who have come on board to cover 50 per cent of our annual operating budget for the next five years. This is incredible as it gives a strong financial foundation and allows us to focus on raising finances for the delivery of free health care in the Pacific."
The strong and versatile New Zealand-based vessel is uniquely designed to carry both people and cargo to remote island communities. Custom built shipping containers on the ship's deck can serve as dental, medical, surgical, pharmaceutical, or classroom facilities. Koha is a Maori word for 'gift'.
Next month YWAM Koha will launch into a five-week pilot programme to deliver free dental services in partnership with several groups in three areas within the Bay of Plenty.
"We are partnering with Whaioranga Trust in Welcome Bay, and several kiwifruit companies in Te Puke area to provide services to their RSE workers. And then we will be working with Ngati Tuwharetoa ki Kawerau Hauora to serve their community in Eastern BOP."
YWAM Koha will keep their Facebook page updated with the expected arrival time on Saturday which may change due to the weather forecast.
More on The Weekend Sun...