Keeping number plates safe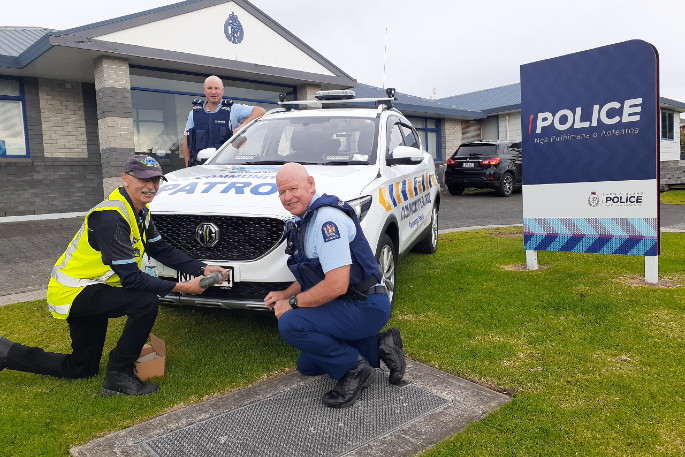 Members of the public have the chance to replace their existing vehicle number plate screws with special tamper resistant screws this Saturday at Tauranga Crossing.
Volunteers from Tauranga South Community Patrol and Police are holding the event in the lower car park opposite the BP Station at Tauranga Crossing from 10am to 2pm.
"We insert a screw with a special head into the front and back number plate to help prevent it being stolen," says Tauranga South Community Patrol leader Maureen Kathan.
Unprotected number plates are easy targets for petrol thieves, especially if parked on roadsides outside the owner's property. As the price of fuel goes up, a lot of people use stolen plates to get some cheap fuel. They flog the number plates and put them on their car. When petrol thieves drive off without paying for the fuel, it is the stolen plate that is photographed by the service station security cameras.
Number plate theft is over in a minute but with a tamper proof screw fitted that requires a special tool to remove number plates cannot be easily taken from a vehicle. Thieves look for easy targets and by spending a few moments to have tamper resistant screws inserted supports the old adage that prevention is better than cure, and the best prevention in this case is removing the temptation.
Those who take up the offer on Saturday will be asked to make a gold coin donation to the community patrols. The Tauranga South Community Patrol provides a voluntary patrol in Greerton, Welcome Bay, Gate Pa and The Lakes and act as an extra set of eyes and ears for police. They look out for any suspicious behaviour on the streets and report it to police for follow-up.
"This fundraiser is a great opportunity for us to get involved in the community in a positive way and we really support this joint venture with the community patrols. This initiative also assists us with the issues we are currently having where number plates are being stolen and used while committing other crimes," says Tauranga South Police Senior Constable Leanne Fairbairn.
The tamper proof screw event will be held at Tauranga Crossing in the lower carpark from 10am – 2pm on Saturday, May 29. Gold coin donation.
More on The Weekend Sun...