50 years of community service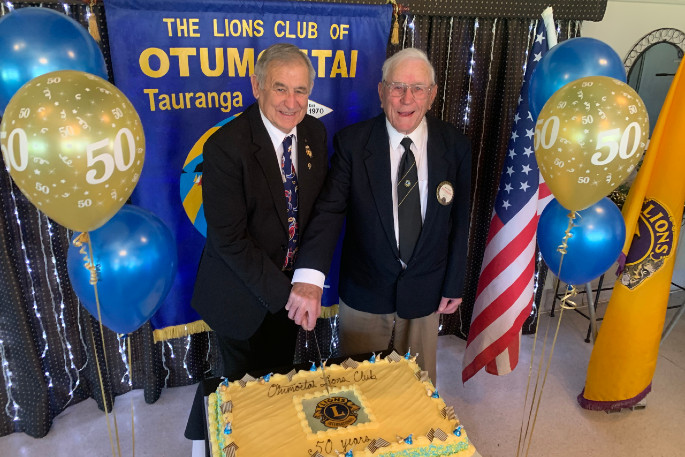 From helping develop Kulim Park at the edge of the harbour, through to assisting locals during severe flooding, the Lions Club of Otumoetai have been an intrinsic and much-appreciated part of the community for the last 50 years.
"The club was chartered in 1970," says club member Margaret Gill. "Because of the Covid lockdown last year we were unable to celebrate, so we're celebrating our 50th birthday a year late."
The club held their anniversary at Daniels in the Park, with the gathering made up of "a whole lot of our past members, and some of our current members," says Margaret.
"Primarily it's a chance to reminisce on some of the amazing projects the club has been involved with and done over the years.
"One of the really cool things that's still visible in our community is that this Lions club was hugely instrumental in the development of Kulim Park and all the work that went on down there."
In 2005 the club responded to floods in Tauranga as many people were faced with the loss of their homes due to flooding and slips.
The club swung into action with calls for household goods which were then supplied to those suffering losses, and they used their Dive Crescent store as the official Red Cross collection point.
An annual concert for elderly citizens has been held by the club for many years in Otumoetai.
Amongst the many ideas for fundraising for the community, members of the club once generated funds for the club's activities account by constructing a play house and raffling it off. They also constructed canoe carrier trailers for Ngatuhoa Lodge Education Centre's canoes in 2007, and additional work at the lodge included maintenance, with painting, weir construction and building repair.
The lodge provided an opportunity for club weekend gatherings, amongst many of the social occasions held over the years. The club meets regularly at the Matua Bowling Club, providing a mix of community projects as well as a social connection for the many active members to become involved in.
With a motto of 'we serve', the Lions Club of Otumoetai has been a stellar example of this for 50 years, empowering volunteers to serve their communities, meeting humanitarian needs, encouraging peace and promoting international understanding.
More on The Weekend Sun...