Hair today, gone tomorrow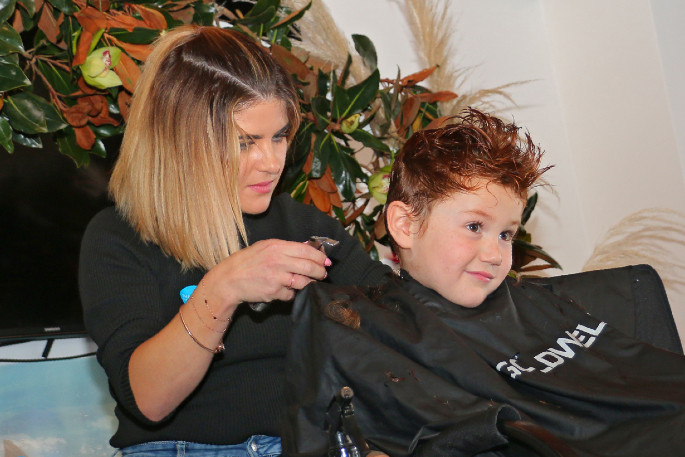 The mane has been tamed, but the lion heart remains for Kalani Sargent.
On Sunday the four-year-old had his 50cm locks, which had been growing since birth, lopped off for child cancer.
His fiery red, curly hair is set to become a wig and although the family will never know where it ends up, his mum Tina imagines it would make beautiful hair for a little girl. They have also raised close to $3400 for the Child Cancer Foundation.
The Weekend Sun met Kalani and Tina before his big cut and headed along on the day to see how it all unfolded.
Kalani now sports a short back and sides and seems unperturbed by his absence of tresses. His mum and aunty are more upset by it.
Tina held back the tears while aunty, Chloe Bird, did the honour of cutting his plaits.
"It was really nerve wracking and I felt like crying, but it was also really exciting," says Chloe.
Kalani played with the plaits and lapped up the attention from the 100 family and friends that gathered at the Tauranga Sports Fishing Club for the occasion.
Chloe's really proud of Kalani, who knows exactly why he was growing his hair.
"It's life-changing and it's something that I will hold with me forever," she says.
"He was so well known for his long hair and now his identity is almost gone, but it won't change him."
Tina chimes in: "He's lucky he's got such a big personality," but she's pleased with the end result, exclaiming how good he looks.
She describes Kalani as fearless and crazy and hopes some of his strength and sense of fun will empower the child that gets his hair. There's also the hope that the money they have raised will help at least one family going through a rough time.
Then there's the sense of relief for Tina, because there was so much anticipation leading up to day and upkeep for his hair was no small feat. It took around 30 minutes a day to brush and care for it.
"We've certainly more than looked after it because we always knew that we were going to be giving his hair over," says Tina.
The mum of three decided to keep growing Kalani's hair around the time most parents would normally give their child their first haircut.
Corina Conn, owner of Hair To Stare At salon, perfected his cut - they are part of the Sustainable Salons initiative, that collect hair for wigs. Corina says they get people donating ponytails around once a fortnight on average.
Mum Tina is contemplating growing Kalani's hair again for donation, but the lion-hearted boy will likely have the last say on that.
Kalani's fundraising page is still live at: www.childcancer-fundraising.org.nz/kalanisargent
More on The Weekend Sun...