Changing the narrative on period poverty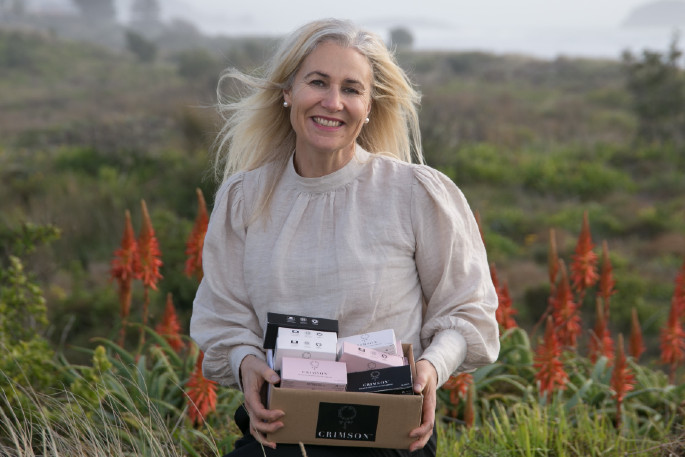 When Crimson Organics owner and Tauranga businesswoman Vicki Scott practised as a court lawyer only a few years ago, she would ask her young clients what they wanted her to bring from the shops on home visits.
It was a nice way to break down the barriers a little bit, and to bring some koha into their homes.
The boys would routinely answer with food items – Coke and chips being a popular choice.
However, the girls would ask for what many people in the community see as a basic human right –tampons, pads, soap and toilet paper were the most common asks from Vicki's young female clients.
"I was enraged," Vicki says.
"It's a bodily function these young women have no choice about, and they shouldn't be denied access to these products."
When new research emerged around five years ago, Vicki realised carrying sanitary products in her bag for these girls was not enough. She had to do something about it.
The research showed that most young people who were entering the criminal justice system had high rates of absentees from schools.
"A lot of the young girls I was representing had barriers and issues in their lives that were making attending school difficult for them," she says.
"Not having any period products or toilet paper are just some of the reasons they didn't go to school.
"I used to have products that I would give them, but I realised that these girls were just the tip of the iceberg.
"They had come across my path and I think anyone would have been compelled to help them."
Crimson Organics was soon created to support girls and women who struggle to access period products. The tampon business which started out of Vicky's garage in Mount Maunganui ran a donations programme to help women in need.
Some five years later, Crimson Organics is to become a part of the government's nationwide initiative to fund period products for schools.
As one of four companies chosen for the initiative, Crimson Organics tampons will be handed out free of charge in schools around the country starting from next week.
"This is an amazing, wonderful start," says Vicki.
"It's a very exciting occasion for human rights and therefore women's rights in New Zealand. It's a giant step towards gender equity in schools, and life."
More on The Weekend Sun...