Inspired by Shadows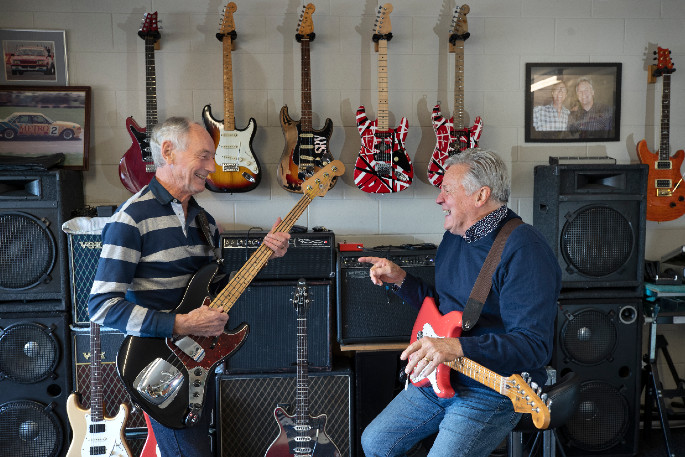 When it comes to music, John Morton likes everything to be exact.
That's why when he builds his replica guitars, he will scratch and scrape his creations until they look exactly like Stevie Ray Vaughan's or Eddie Van Halen's – worn with character after years of touring.
"For one, I scratched the wood to make a dust pile on the floor, then I picked it all up and glued it into the guitar," says John.
"For others, I get the wire brush out so it looks like the scratches from the pic going down it."
His perfectionism also comes through in his playing. "Which drives me nuts," laughs bandmate Peter Davies.
The pair have formed a Shadows tribute band called Night Light – Peter is on bass, and John is on lead guitar. They rehearse in John's garage to the backdrop of his treasure trove of guitars and collected items, like an amp that once belonged to Paul McCartney. Collecting is a passion Peter shares – he has an amp previously used by The Rolling Stones.
"If you listen to a Shadows song there's a lot of layers, with instruments like horns featuring in some of the songs," says John about the 1960s UK outfit who were originally Cliff Richard's backing band. "I produce and record the other instruments, so when we play live it sounds exactly like The Shadows – or pretty close to it."
The pair, who both live in Bethlehem, met through mutual friends and instantly bonded over their love of The Shadows' music. That was only a few months ago, but they banter like they've known each other for years.
When John claims that he and Eric Clapton have a "big similarity" in their guitar playing style, it's met with a quick "yeah right!" from Peter.
"And what similarity might that be, John?"
"Arthritis," he replies.
They may joke about their abilities, but when it comes to performing this is far from John and Peter's first rodeo.
Peter was the rhythm guitarist in the band Gremlins. In 1996, the band's song The Coming Generation was second in the New Zealand Top 20 music chart to The Beatles' Yellow Submarine.
"I've played a lot of Shadows songs over the years but on guitar, so learning them on bass has been a fun experience," says Peter.
One of John's many bands from over the years, Shane and the Shadz, won the Variety Artists Club NZ Group of the Year award in 2014.
When John plays, it's on a guitar he has built. His favourite creation is his pink Hank Marvin replica – as you may have guessed, Hank Marvin is the lead guitarist from The Shadows.
It sits beneath a photo of Hank with John, who he met by chance in a Perth recording studio while The Shadows were making their final album in 2008. Hank recorded with John's replica guitar on the last two tracks.
John makes guitars for the love of it, mostly giving them to family and friends. One of those friends, John says, was mental health advocate and comedian Mike King.
"The guitar raised more than $7000 at an auction for Mike's charity, I Am Hope," says John.
John and Peter are looking forward to performing local gigs, with further plans to raise money for charity with their music.
More on The Weekend Sun...