Colour my world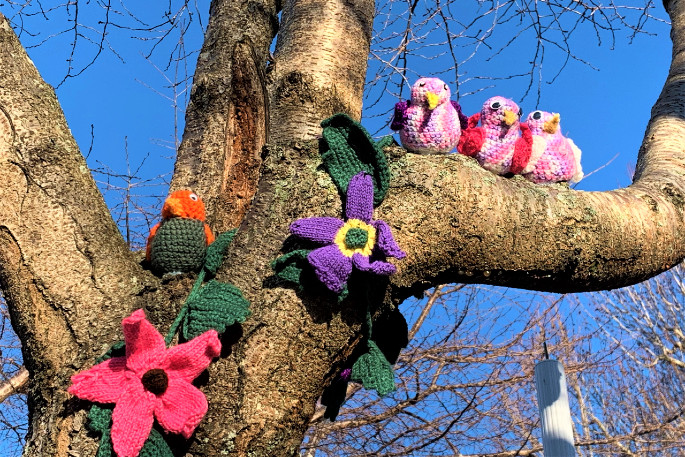 An explosion of colour has appeared in Greerton Village this week as yarn bombing returns to brighten up the winter days ahead.
Under the theme 'Colour my World', creativity abounds as knitters and crocheter's break out vibrant colours after the unsettled year of 2020.
Many of the famous cherry blossom trees around the Greerton Village are no longer naked but are now dressed, with help from Greerton Lions and Greerton Mainstreet members, resulting in a colourful array of trunks along Chadwick and Cameron Roads.
This year bombers range from five years to 90 years of age, with local schools participating once more and grannies enjoying assistance from their grandchildren.
Creating tree 'sleeves' takes a lot of planning, with Greerton Mainstreet Manager Sally Benning and yarn bombing coordinator Carol Power, who is contracted by the Greerton Community Association, beginning event preparation well in advance.
Once the year's theme is chosen, and knitters and yarn bombers choose the charity they want to support, then the creating begins.
Local retailer Marilyn Mouat, owner of MD's Leatherworks in Chadwick Rd has been involved for the last six or seven years. Last year she knitted the stunning Edmonds Cookbook scene as part of the 'Aotearoa: What it means to me' theme.
"I've done a bicycle, Thomas the Tank Engine, an octopus for 'Under the Sea', and I did Cinderella in blue coming out of a tree," says Marilyn.
The Greerton Village Community Association's yarn bombing event began in 2012 with 16 decorated cherry blossom trees, and is now celebrating its tenth anniversary.
"Belinda Sands started the yarn bombing with Greerton Guerrillas," says Carol.
Belinda, who is also the owner of Greerton Lotto, has knitted all of her life and noticed that yarn bombing was becoming a popular social media phenomenon in Europe. After discussion with the then Greerton Mainstreet manager, a local version was organised.
"People thought we were quite crazy, but we just have the perfect cherry trees in Greerton," says Belinda.
Word spread and many others joined in. Nowadays, groups or individuals are responsible for one or more trees each, with public voting to find an annual winner, and groups selecting a local charity to fundraise for.
Themes from previous years have included 'Depict Your Favourite Song' and 'Children's Books', and numerous subjects have been knitted into life over the last decade, from pukekos, flamingos, gumboots, lollies, NZ scenery and Marmite jars to name a few.
Carol says the artworks are becoming more three-dimensional.
"It's been a fantastic year. There are over 30 new sleeves, and some of the trees this year are designed so you can be a part of it for a photo.
"Greerton has the best yarn bombing in New Zealand now because of the intricate and 3D designs that people are doing."
The trees are now on full display until August 29, in perfect time for the school holidays.
Manual voting is available at six locations in Greerton Village – look out for window posters to see where, or you can vote online on the Greerton Village Yarn Bombing Facebook page. Voting closes at 10am on Friday, August 20, and winners will be announced by August 24.
More on The Weekend Sun...