Tup's tennis legacy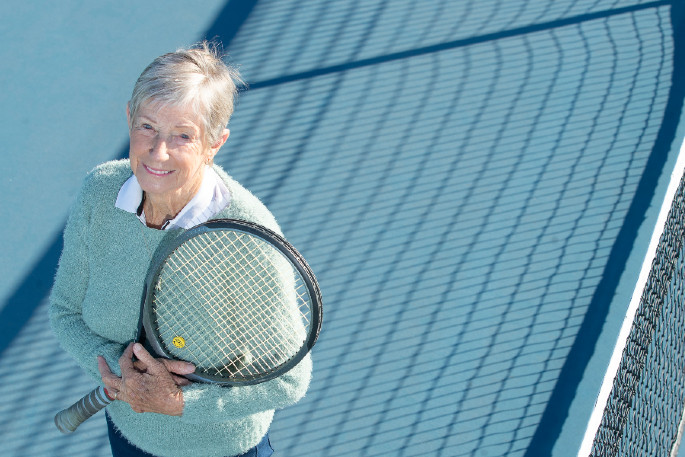 It comes as no surprise when entering Tup Cox's Mount Maunganui home to find her watching Wimbledon on the television.
A large collection of trophies and certificates on show in the 83-year-old's living room tell the story of a prolific life on the tennis court.
She expresses disbelief that French Open finalist Stefanos Tsitsipas has just been knocked out by the unseeded Frances Tiafoe.
When it comes to winning tournaments, Tup knows a thing or two.
She is one of the most decorated tennis players in New Zealand, with an impressive 55 national titles to her name.
Born in the Hauraki Plains, Tup started playing tennis when she was just 10-years-old.
"There were two asphalt courts," she reminisces, "with wooden rackets and nylon strings."
A career in the Air Force as an electrician followed whereas tennis, as well as indoor basketball and squash, became regular past-times. But tennis stuck.
Wherever she went, from Singapore to Marlborough all the way back to Te Puke and now the Mount, Tup eventually found a tennis club she could call her own.
Tup says she has never had any proper coaching - she just plays and learns the game as she goes.
The rewards have been plentiful. She travelled to Croatia and Australia in the senior's bracket, on one occasion even getting to carry the New Zealand flag.
"To top it all off I was given the honour of being patron for Tennis New Zealand Seniors," says Tup, "which was a great honour."
Tennis has given a lot to Tup, who credits her longevity to staying active and a little bit of luck with injuries. Walking the Mount is now a favourite means of getting the body moving.
However, a shoulder injury finally saw Tup decide to call it a day last year. That said, she still has an outlet for her sporting itch.
She is part of the Te Puke Women On Wheels cycling club and a proud owner of an e-Bike. It appears she is enjoying this more relaxed pursuit.
"I love it and do you know why? Because it is not competitive," she explains. "Everything I have played my whole life has been competitive. I don't miss the competitiveness."
Yet it is not long before that competitive streak sneaks back in. Tup has retired confident that her nearest competitor to the throne of most decorated tennis player in the country won't surpass her impressive total.
"David Hawkes is the young guy," she says of her nearest rival. "He lives here, I think he's got 40-odd titles. He's not young actually, he is approaching 80.
"So I don't think he will catch me."
More on The Weekend Sun...