Residents "prisoners" over SH2 safety concerns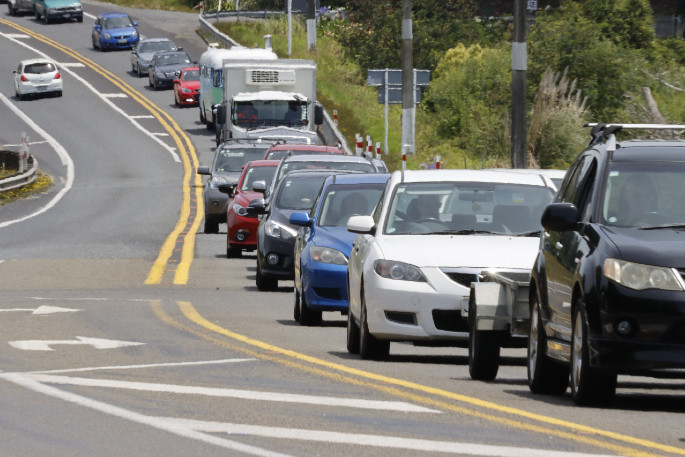 Some residents in Ōmokoroa are so scared of using State Highway 2 they feel like "prisoners" in the town, according to Coromandel MP Scott Simpson.
His comments echo those of Bay of Plenty MP Todd Muller, in light of the government's recent announcement of changes to the Stage Two construction of the Takitimu North Link.
Construction on Stage One of the project, which will see a 6.8km four-lane expressway between Tauranga and Te Puna, is slated to start later this year.
However, Stage Two of the project, which would have seen a 7km extension running from Te Puna to Ōmokoroa has been put on the back-burner, with a minimum 10 year wait likely.
The Bay of Plenty Regional Council's Regional Transport Committee chairman Lyall Thurston wrote in a letter to Transport Minister Michael Wood that the road is a "death trap" whilst expressing disappointment at the decision to pull Stage Two funding.
Lee, a resident who uses SH2 on his daily commute, says he has had a couple of near misses on the road and is anxious about driving with his young children in the car.
"It's a mess," he says. "The amount of crashes and deaths on that road does make me wary about taking the kids in the car.
"There have been a couple of occasions where, a split second later, I could have been toast."
Simpson, whose Coromandel electorate stretches along SH2 north of Whakamārama, is of a similar mindset.
"I was in Ōmokoroa on Friday and people are very angry," says Simpson.
"People are scared. I have spoken to older citizens who are fearful of using that road at all and spoken to people who simply will not drive that road. They have, for all intents and purposes, become prisoners in Ōmokoroa."
Bay of Plenty MP Todd Muller agrees with the assertion that the stretch of SH2 from Tauranga to Katikati is a "death trap".
"It has been an appallingly long process, particularly over the past four years," says Muller.
"Trying to get out of Ōmokoroa at the best of times is difficult and when the traffic builds up it becomes incredibly dangerous.
"I think this government has shown willful neglect of the community here in the Western Bay of Plenty."
Bay of Plenty Labour list MP, Angie Warren-Clark, says the government had to take a balanced approach with New Zealand Upgrade Programme investments to secure economic recovery and keep a lid on debt.
She also highlights the start of Stage One of the project later this year as a safety improvement, and confirms the intention does remain to, eventually, initiate the Stage Two works.
"Despite the increased costs due to Covid, we're increasing investment so that Takitimu North Link will start construction at the end of the year," she says.
"We're also proceeding with route protection for the next stage, which will be built in the future.
"We know safety is a major concern on SH2 and that's why we're continuing to build safety improvements along SH2 to help save lives."
More on The Weekend Sun...