A little heaven in a pastry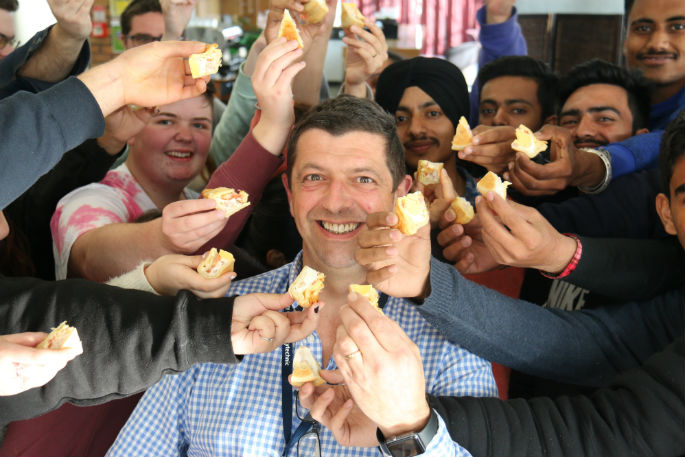 The queue stretched out the door. Thirty, 40, 50 people long.
And there was all the bustle and high expectation of a Boxing Day sale.
But no, these folk were queuing for pies. A simple bacon and egg pie. A Patrick's bacon and egg pie. Queues at a lunchbar? Queues for a pie? Never seen the like.
"Anyone would think they'd won a prize," said one wag, some Simple Simon standing at the back of the queue, a good 10 minutes away from a warmer chocka with supreme award-winners. Patrick's bacon and egg pies. The best damned pies in the country.
This week Patrick's Pie creator Patrick Lam won his sixth Bakels Supreme Pie Award, with his bacon and egg pie.
And as soon as the pies were loaded one side of the warmer, they were going out the other. "Many pies, many, many pies," beamed the woman on the till. Bacon and egg pies with the yolk whole like mother used to make. And slices of tomato.
Many pies and many, many dollars. Ka-ching, ka-ching sings a happy till. Normally the Gold Star Bakery churns out 200 pies a day. After winning a national pie award, it bakes 1200 pies a day. "That's a bloody lot of pies," as one rugby commentator once famously said.
"They better be good," said Simple Simon, his patience tested. He had never queued for a pie before. "Oh, they're good alright," says celebrity chef and polytech tutor Peter Blakeway.
The Weekend Sun has just presented Peter and his Bay of Plenty Polytechnic students with half a dozen Patrick Lam bacon and egg pies for assessment.
"Really, really well seasoned." And apparently seasoning is something lacking in an awful lot of the food we buy. "Sadly, in processed food they rely on flavour enhancers."
"But Patrick's pie is actually a very, very, very good product. Beautiful flavour." Pastry not too fatty, not too greasy. "I am surprised and impressed." And this from an ex-pat Pom, who knows his onions, knows his pork pies. Then Peter says something surprisingly un-foodie for a foodie. "More importantly, they are here, they are in the Bay; they are ours." He means both Patrick Lam, the pie chef, and his pies. "We should be very grateful for them and proud of them."
Then he does get foodie.
"The pie is a lovely simple thing. But sometimes simple is harder to achieve than complex. "With simple there is nowhere to hide. All the ingredients have to be perfect." Patrick, it seems, has nailed it.
And passion is the key ingredient. "With the passion these people are putting into their product, into their pies, they deserve every accolade. They really do."
Shane Yardley, a chef lecturer at the polytech, broke into his afternoon to pick over the current culinary phenomenon which is a Patrick pie.
Did we see his lip curl? "It was the tomato." Is tomato an alien ingredient in a bacon and egg pie? "It's a subjective thing. When it gets too hot the tomato makes it too hard to eat. Burns your tongue. But obviously the judges liked it."
And Shane is won over by the queues out Patrick's Bethlehem doors. "That tells you it's a special product and people won't be disappointed buying one." And the students made six of Patrick's pies disappear without comment or criticism. That's got to say something.
Peter suggests we all queue and buy a Patrick's pie as a show of support for very good product. "But not a pie every day for everyone, because from a health point of view that is probably not a good thing."
And now Patrick's bacon and egg pies have been elevated to a place in our everyday general knowledge. What kind of pie has been voted as New Zealand's best in 2016 asked the Stuff Daily Quiz this week. Steak and cheese, butter chicken, bacon and egg or mince and cheese?
No prizes.
More on The Weekend Sun...