Shibori silk on display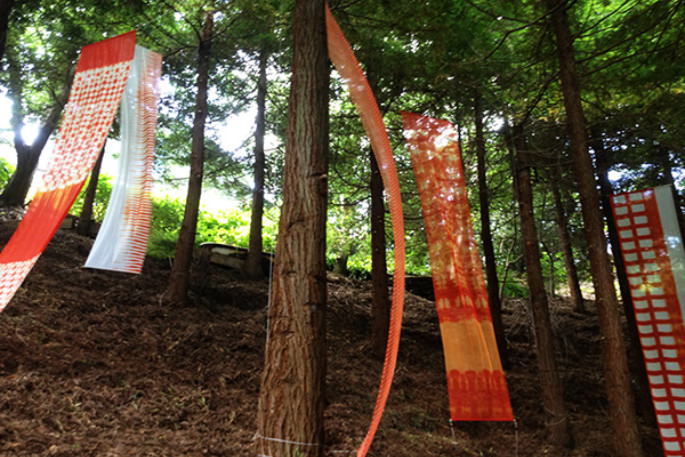 Raglan artist Jean Carbon's exhibition at The Art Lounge NZ is a soft flow of mandarin colour, with swathes of hanging silk floating gently in the air.
The exhibition, titled Reflection on Dawn, is being curated by Sonya Gilbert as part of her internship to learn about the facets of a business.
Sonya is a third-year Waikato University Bachelor of Business student, and chose C'Bon Textiles to showcase Jean's fashion work, which utilises the ancient resist dyeing techniques of Shibori and clamped blocks to pattern sumptuous silk fabrics.
"Jean has travelled around the world to obtain her fabrics, but she's also learned the art of Shibori through traditional craftspeople," says Sonya.
After 16 years of teaching fabric technology, Jean completed a Bachelor of Arts in Fashion Technology at AUT in Auckland, and is now a full-time artist living and working from her Raglan home.
There, students can stay in separate self-contained accommodation while participating in Jean's live-in workshops, learning the art and techniques she uses.
"My passion is fabric; its history and origins, and the many ways it can be patterned, coloured and decorated to create garments or works of art," says Jean.
Her work, which also includes scarves, cushions and garments, is sold and exhibited throughout New Zealand and she is available for bespoke commissions of artworks and one-off garments.
Sonya has been volunteering at The Art Lounge for a couple of years. When her lecturer introduced her to Jean's work, she thought Jean may like to exhibit this side of the Kaimai Range.
"There are about 12 four-metre drops of silk that we're hanging in The Art Lounge for the exhibition," says Sonya. "I have a team of people helping to set it up, with lighting and fans to create the movement of the fabric."
Jean Carbon's Reflection on Dawn silk art and design exhibition opens at The Art Lounge, 117 Willow Street, on Friday July 23 and runs until August 4.
More on The Weekend Sun...