Tolley reacts to ratepayer protests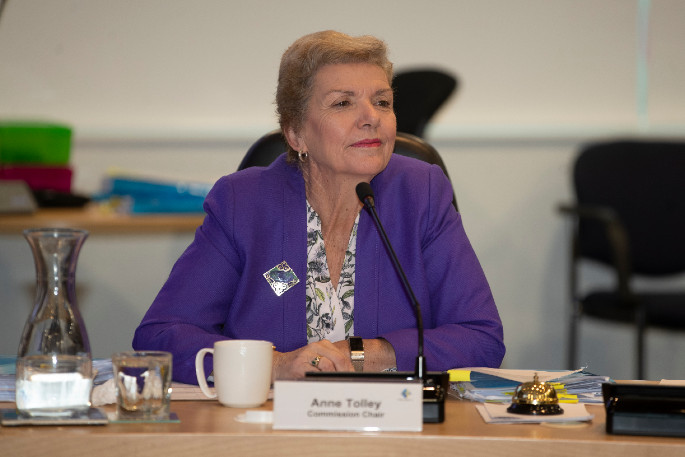 Tauranga City Council commission chair Anne Tolley is sympathising with those who may be impacted by increasing rates as part of the city's Long Term Plan.
The 2021-31 LTP was adopted in a meeting in council chambers earlier this week.
It comes after members of the Tauranga Ratepayers Alliance protested the rates increase, with steering group member Jordan Williams boldly insisting incompetent but elected politicians would be preferable to the current Commission.
Hundreds of protesters, led by the TRA, gathered at council buildings on Willow Street in central Tauranga on Monday amid pouring rain.
They marched against rates increasing as high as 17 per cent residentially and 48 per cent commercially in the first year of the LTP.
Tolley, who thanked council staff for their hard work over the past 18 months, appreciates that the rates increase will be challenging for some.
"We are well aware that there is a section of the community here that are on fixed incomes, so any increase in cost affects them quite seriously," she says.
"We are well aware there are people who will find it difficult to pay an increase in anything."
She says upon arrival in Tauranga, herself and her team - Commissioners Bill Wasley, Stephen Selwood and Shadrach Rolleston - have found a city "overwhelmed by rapid growth".
That growth has not been offset by steadily increasing rates is one council argument - increases which are now needed to pay for crucial infrastructure such as roading, piping and community amenities.
"What we have tried to do is make everyone pay a bit more," says Tolley.
"The commercial sector is paying a bit more, residents are paying a bit more and the development levies are going up. So everyone across the board is paying a bit more so we can get the infrastructure."
The TRA march was led by steering group members such as Williams, who says he was witnessing "with sadness" the events in Tauranga.
He suggests democracy has been parked since the Commission was installed by Mahuta, following dysfunction amid elected councillors and former Mayor Tenby Powell.
"The billboards around the town say that the councillors are listening, but the message from the hundreds of people that have turned up in the pouring rain would certainly suggest otherwise," he says.
He highlighted what he called "elephants in the room" regarding the LTP and the Commissioners, pouring scorn on claims infrastructure is poor due to previously low rates, what he calls a looming "debt monster" and a perceived lack of democracy.
"Fundamentally, the people protesting want their city back," he says. "We want democracy back.
"We never said democracy picks the best people but we would much rather incompetent democratically elected politicians that we can kick out than incompetent unaccountable people that won't even front up to hundreds of people directly outside the council chambers."
More on The Weekend Sun...