A man with a digger and a can-do attitude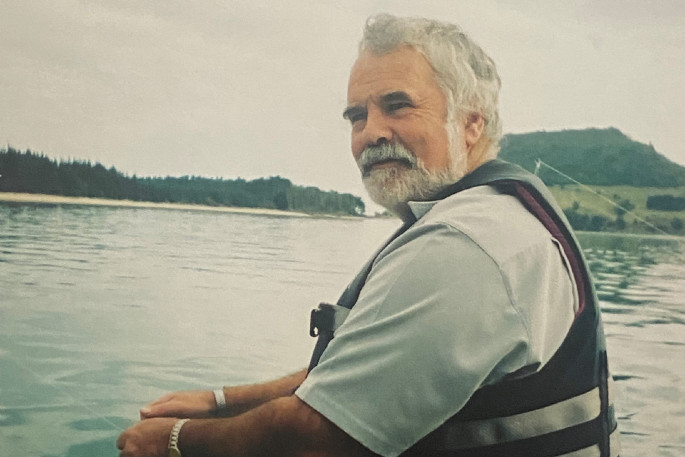 A down to earth, caring man who gave hours of his time and wanted nothing in return is being fondly remembered by the Tauranga community.
Rex McIntyre died last week following an accident while working on a digger in Te Puna Quarry Park.
The 69-year-old volunteered thousands of hours of his time as a digger operator to the park in the last 15 years, helping to carve out new tracks, clear slips and carrying out earthworks.
Te Puna Quarry Park co-founder Jo Dawkins says he was quick to answer the call for help, and loved doing it.
"He enjoyed doing things for the community and he enjoyed his big digger," says Jo.
Rex and Jo's friendship meant he only asked for a hug as payment for his work in the park, she recalls warmly.
"He was always happy, always friendly. I'll miss him greatly."
Jo did the floral arrangement for Rex's casket using kauri leaves, ferns and flowers from the park, purchasing only the roses.
Rex and his wife Sharon clearly love roses, with around 200 bushes at their home. He told Jo he had 183 left to prune when they spoke last week, so quarry volunteers have offered their help.
Te Puna Quarry Park Society president Shona Purves remembers how Rex quickly came to their aid after floods and a slip blocked the stream one year.
"The slip had made an awful mess and he was there almost immediately with his digger," says Shona.
"In fact he got his digger stuck and he had to go and get another one, to dig his digger out!
"He loved the quarry. He classed it as his happy place and our happy place and he loved coming to his happy place."
A large cross has been placed in the park as a memorial, and it is covered in handwritten messages from park volunteers, friends and employees.
One reads: "The best boss ever, RIP".
Another says: "It was a pleasure and honour working with you Rex. You are one of a kind, big hearted, caring man. I will treasure the memories I have of you forever."
Rex started his business Supermac Group 40 years ago and has grown the company from a couple of staff to the current employment of more than 50 people.
He also loved fishing and golf and volunteered for various organisation and events around Tauranga.
Rex and his family also hosted exchange students over the years.
One of those students is Marjorie Lanzarin from Brazil. She fondly called Rex "dad" and remembers a dad-daughter day back in 2002 where they went fishing.
"He was an amazing man, a great part of my best memories in New Zealand," says Marjorie.
Rex leaves behind his wife Sharon, children and Liao Jia (LJ), Annaliese, Kyle, Hannah and Matthew and grandchildren Conrad, Archer and Torin. He also had two children, Daniel and Talia, who are deceased.
More on The Weekend Sun...