A feast of award winning pies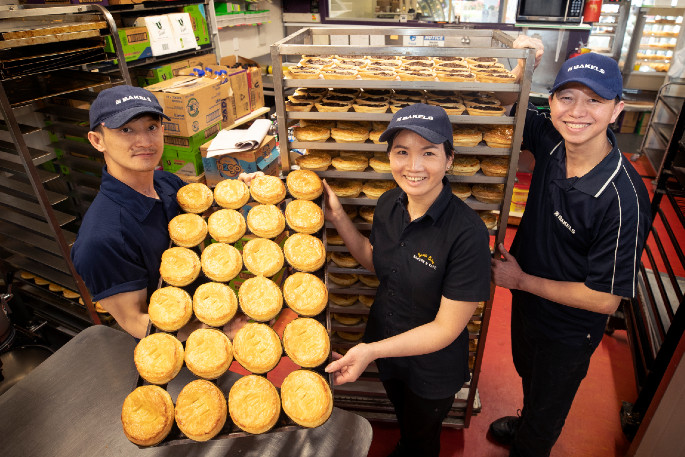 Buttery flaky pastry, and beef surrounded in rich gravy topped with cheese. The steak and cheese pie is fundamentally Kiwi, and Tauranga is home to some serious award winners.
At this year's pie awards, two Tauranga bakeries won three awards each for their pies.
Greerton's Baker Bobs Bakery and Café have won two silvers and a bronze at the 24th Bakels NZ Supreme Pie Awards. Patrick Lam of Patrick's Pies Goldstar Bakery has also won two silvers and a highly commended nod.
Baker Bobs owners Mony Rath Chhoeuy and Geemun Chao are proud of their efforts, despite not winning gold as they have in previous years.
The husband and wife team have four gold medals to their name.
They won silver for their steak, mushroom and cheese pie and a bronze for steak and cheese.
It is the first year they have won a silver for their vegetarian pie - in previous years they've won bronze.
The secret was adding cranberry sauce and camembert to the spinach, pumpkin and kumara pie.
"We feel extremely happy, we weren't expecting a silver," says Mony.
Mony says part of their success is because of their focus on quality ingredients and their love of cooking. The other is their staff
The couple have entered the awards every year since 2008 and have owned Baker Bobs for six years. They previously owned a bakery in Taupo.
Mony and Geemun have their sights set on gold and the supreme pie award at next year's competition.
Pie legend Patrick Lam won silver for his steak and cheese and potato topped pie, but has lost his supreme pie award crown. His steak and gravy pie also received a highly commended.
This year Auckland baker Sopheap Long of Euro Patisserie in Torbay won the supreme award with her steak and cheese. She is the first female to win a Bakels NZ Supreme Pie Award since its inception in 1996.
Patrick, of Patrick's Pies Goldstar Bakery in Bethlehem, holds the record with seven supreme awards.
He previously told The Weekend Sun: "It's easy to make a pie, but it's hard to make a perfect pie because anything can happen with the ingredients."
This year there were 5000 pies entered in the competition by 465 bakeries. The steak and cheese and mince and cheese categories receive the highest number of entries year-on-year, proving that Kiwis can't go past the delicious blend of beef and cheese.
More on The Weekend Sun...