Uncovering The Elms' past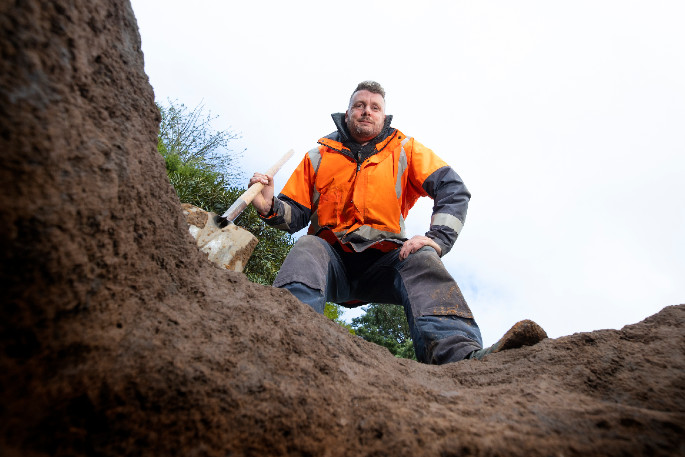 Unearthing Tauranga's past is revealing both early Māori and European settlement at an archaeological site on the Te Papa peninsula.
I've been asked not to call it a 'dig', which I guess is akin to not calling a photographer's work a 'pic'. Or calling this story a 'rave'.
But raving about the excitement felt when watching archaeologist Cameron McCaffrey wave his hand and describing various lumps and holes in the ground at 7 and 11 Mission Street is something that I can't help respond to.
I'm picking up the correct terms fast. It's not a dig, it's an archaeological investigation.
"What's that?" I ask, pointing to the centre of the back section where a large circular hollow has been exposed.
"We haven't got to the large circle yet, but we've uncovered several Māori rua which are underground storage features utilised for storing crops, most likely kumara," says Cameron.
"Interestingly they are filled with an historic infill which means they were likely left open and filled in by Europeans."
Cam says there's also a number of post holes relating to both Māori and European settlement.
Leon Mills from Page Earthworks is onsite with his digger, working closely with Cameron and fellow archaeologist Ken Phillips. On the day I visit, Cameron and Leon are resuming the archaeological investigation after a bout of rain.
Cameron had taken it as far as he could with hand excavation, and there were some features that he wasn't able to document or determine their significance without further investigation. Hence the digger.
The correct term is excavator, but I'm pretty sure they're fine with me calling it a digger.
They say the back section's investigation will be completed soon, but there are a few features that Cam wants to take a closer look at. Once completed though, Leon will push the enormous mound of soil back over the site and they will start stripping back the top soil from the front site.
I quickly learn that the holes I can see are archaeological features.
"The features haven't been as concentrated as we expected, which in itself is a significant finding," says Cameron. "The absence of evidence is as significant as the presence of evidence, as it indicates different activity patterns within the landscape."
Back when the Mission Street bus stop was being installed near the front gate, only a mere 100 metres away, intense archaeological features were discovered. But here on the back section – comparatively little. Taken in context, it makes for an interesting overall picture.
"What I can tell you is that we have a palimpsest going on here," says Cameron.
The term 'palimpsest' indicates many archaeological deposits from different time periods in the same spot. Cameron points out other key features.
"We've likely got pre-European Māori features on site which may relate to the pā that was here or the undefended kāinga that extended around that pā.
"And then we've got some European features - two different phases of post holes - so there were two different structures present. We haven't been able to date those categorically yet."
"Then we've got pits which we're trying to define at the moment and get some more information on."
They've also found an early shell midden near a fence line. The two archaeologists always anticipated that there was going be archaeology to uncover.
"There's a long history associated with this location, so we expected to find something," says Cameron.
Once the top soil is stripped off, he is able to look for discolouration in the ground, below which may indicate an archaeological feature that was backfilled after use.
"The fill gives us information about the time period."
Leon is waiting to replace the 200 cubic metres of soil he moved off the back section, so that they can begin on the front section. It took about five days to strip back. There's an air of expectancy that the front may have a higher concentration of archaeology to find.
I look across at the circular hollow.
"There's still a mystery around that," says Cameron. "It hasn't given us much information from what we've excavated so far, but we're going to open that with the digger and see if it gives us any more information."
We've taken our pics and I'm ready to write my rave. As we pack up, Cameron waits politely, holding his shovel, ready to resume work. Apparently it's a shovel, not a spade.
"We better crack on," says Cameron as he turns back to the excavation.
More on The Weekend Sun...