Building a Tanzania-Tauranga link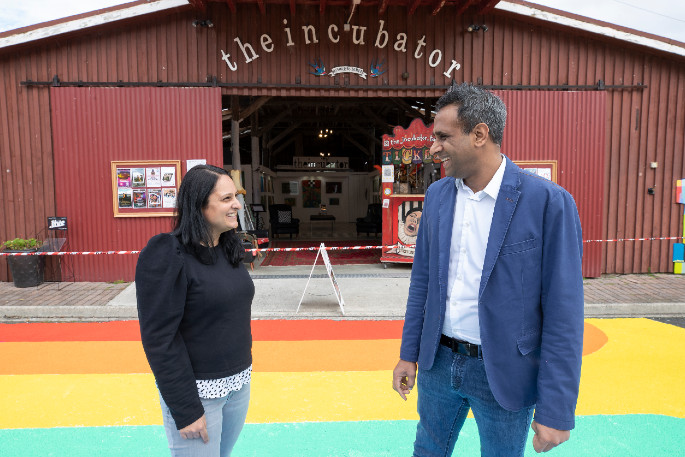 Leonie Trubshoe's efforts to market an international school is a remarkable testament to overcoming the hurdles of the Covid pandemic.
Since her return from Arusha, Tanzania, Leonie has been working remotely from Tauranga in her role as marketing manager for Tanzania's St Constantine International School. She recently came up with an innovative idea to help students from poorer backgrounds attend.
The school provides partial scholarships for highly-talented students who would benefit from an international education, but wouldn't normally be able to access one. Funds mostly come from fee-paying students who are children of many UN agency parents, and major international companies.
"Due to the mass exodus of international organisation families because of the Covid outbreak, they have next to no ongoing scholarship funding coming in," says Leonie.
She realised that art and craft produced by the Tanzanian people would appeal to Kiwis, so has arranged for a vibrant exhibition of work to be shown during September at The Incubator.
"The theme of the exhibition, titled 'Sanaa na ufundi', will encompass the life and passions of Tanzania and be divided into the following sections as designated by our art master, Geoffrey Namulala - cultural portraits, other portraits, cubism, Tanzanian wildlife, and emotions," says Leonie.
The school is truly international; the two girls helping to organise the exhibition at the Tanzanian end are from Malawi and India, and they're assisted by a multicultural team including students from Kenya, Tanzania, Rwanda, Benin, Democratic Republic of the Congo and Ethiopia.
The students' drawings, paintings and collage artwork will be on sale, along with a 'village craft stall', with many items such as handwoven blankets, jewellery, laptop bags, handmade sandals, baskets, fabrics, and elaborate headscarves made by parents, students and school supporters.
"A drawing by a student of a young street boy sold when we were unpacking the artworks," adds Leonie.
"The student was 16 when he drew it and graduated last year. We've asked the graduating students to donate their work."
St Constantine International School's upper primary year six class have created beautiful brochures promoting Tanzania for the exhibition, to help local safari and hospitality companies rebuild their businesses by encouraging Kiwis to visit.
The highly-rated Tazama Safaris have also donated a five-day safari to be raffled during the exhibition, which Leonie says will be valid until 2023.
"Our school is only 100km from Mount Kilimanjaro, 170km from Ngorongoro Crater and about 380km from the Serengeti," says Leonie, "so it is a magical part of the world in which to live.
"Most of our senior students climb Mount Kilimanjaro as an elective before they graduate."
Yasir Patel, the newly appointed Principal of St Constantine International School, paid a fleeting visit to Tauranga with his wife Zahrina Kolah to meet with Leonie. Coming from teaching jobs at Takapuna, and on their way to start their new roles, they are also keen to develop a relationship with schools in Tauranga.
The exhibition, which will run at The Incubator from August 28–September 29, will be officially opened with a cultural launch by Labour List MP and Deputy Minister of Education Jan Tinetti, on August 27.
More on The Weekend Sun...