Community spirit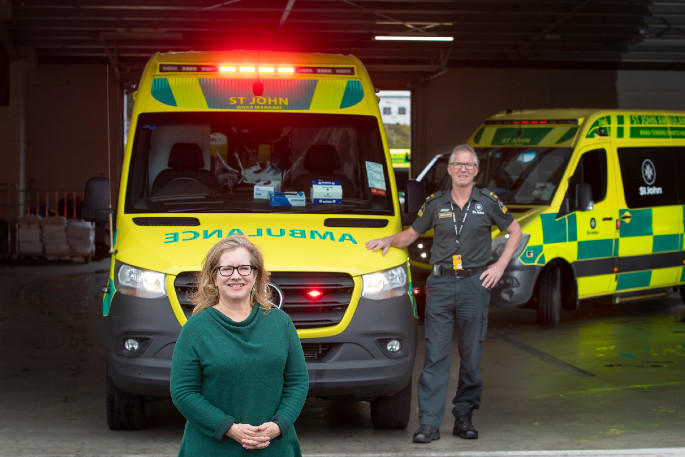 St John is one of 194 charities and community organisations benefiting from this year's record Acorn Foundation distributions across the Western Bay of Plenty community.
Acorn Foundation CEO Lori Luke says this year's record distributions are an acknowledgment of the incredible generosity of their growing number of donors.
"The Acorn team is honoured to make these distributions on behalf of our donors, who all care deeply about our community," says Lori.
"The recipients that are specified by our donors, or selected by the Acorn Distributions Committee, are so important to the wellbeing of our region, and it is our privilege to be able to support their hard work."
St John's Tauranga, Mount Maunganui, Katikati and Te Puke stations are being gifted $37,000 this year from nine different Acorn endowment funds, bringing the total granted to the organisation since 2008 to more than $250,000.
Jeremy Gooders, St John Bay of Plenty district operations manager, says Acorn Foundation funding helps them to provide life-saving community services.
"St John is very appreciative to have been a long-time recipient of funds from Acorn Foundation donors," says Jeremy.
"It has allowed us to purchase vital and life-saving medical equipment for our emergency ambulance service, and to provide health-related services to support our community in the Western Bay of Plenty."
The record distribution this year is driven by a nearly 50 per cent growth in Acorn's funds under management, which surpassed $53.6 million in June.
Whilst most of this growth was driven by gifts in wills, Lori says donors contribute in all sorts of ways including estates, living gifts, trust resettlements, community group funds, giving circles and Workplace Giving programmes.
"People choose to contribute to our community for all sorts of reasons," says Lori. "Endowment funds – whether donations come via living giving or an estate bequest – are invested in perpetuity, and the investment income is used to support local causes every year."
This year's Acorn distribution also marks another milestone for the Foundation, which has now contributed more than $10 million to the community since its inception in 2003. This September is also wills month, allowing people to update their will for free to include a charitable donation.
A full list of the Acorn Foundation's 2021 distributions can be found at: www.acornfoundation.org.nz
More on The Weekend Sun...