Water skills create a whole new world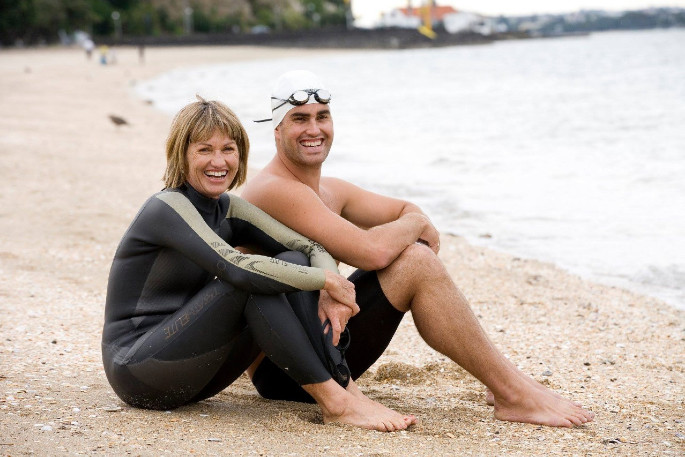 Water skills for life is something Moss Burmester gained as a young boy.
With two parents who showed him the skills needed to live a fulfilling life on the water's edge, it opened vast opportunities for him to thrive both under and on its surface.
Moss, who grew up in Tauranga and has since represented New Zealand in four water-based sports, believes all children should be given the same opportunities he had.
"It all started from being introduced to the water at an early age by my mum and dad," says Moss.
"I have two younger brothers and my parents made sure that regardless, if we were at the beach or on the boat, that we would be safe near or in the water.
"As I was always in that environment, I grew a passion for the water. It opened the doorway for me to pursue my various sporting pathways and careers in the pool later in life, and to take them more seriously."
The now 40-year-old has represented New Zealand in not only swimming, which took him to the Olympics, Commonwealth Games and the World Championships, but also surf lifesaving, underwater hockey and, more recently, spearfishing.
Moss' mother Bronwen had made the NZ underwater hockey team prior to having children, and once Moss was born, she didn't give it up. Instead, she brought him with her to train.
"One of my earliest memories is wrapping my arms around my mum's neck and lying on her back whilst she trained in the Greerton pool here in Tauranga," says Moss.
"It would basically be a form of resistance training for her, and she would swim half a length above water and the other half underwater.
"I remember she would always tell me to tap her if I needed to breathe and she would swim to the surface."
Experiences such as this one, and early interactions in the water, is what gave Moss the confidence to really value everything the water has to offer and the passion to share it with others.
"There shouldn't be drownings in New Zealand," he says.
"It should be one of those life skills that everyone is taught at school.
You should learn how to cook, change a tyre, do a bit of maths and swim."
Moss is a strong supporter of the new Water Skills for Life Pilot plus Programme founded by Anne Mcleod, and says it's critical for kids who want to enjoy a whole other world in the water.
"In the Bay of Plenty, you've got great weather, lakes, rivers and the ocean right on your back doorstep," says Moss.
"It's vital for kids to know about water safety and to be able to read the water in order to thrive in it.
"It's time I gave back to the community through this program. I hugely appreciate all the support I received back in the day and I've never forgotten it."
More on The Weekend Sun...