Three taken to hospital after Judea fire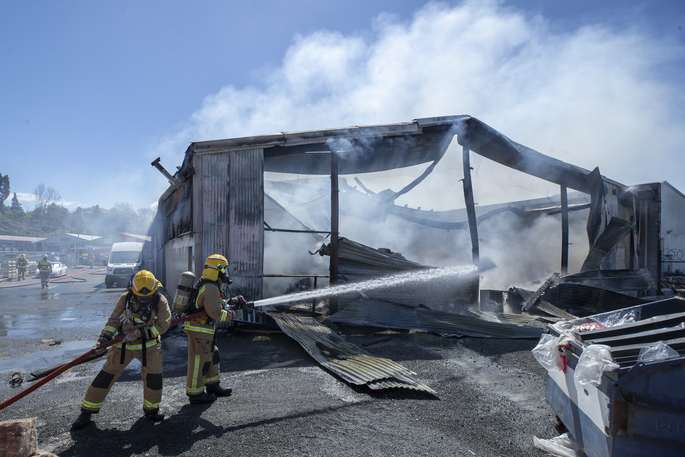 While investigations are underway into the cause of a fire in Judea, Fire and Emergency New Zealand state the cause is likely accidental.
Three people were transported to hospital in a moderate condition following the incident on Tuesday afternoon.
Plumes of black smoke billowed into the Tauranga sky as the fire at an air conditioning warehouse on Birch Avenue ignited.
Five FENZ appliances attended and put out the fire, which destroyed much of the back part of the building.
"We are still investigating, but it looks like it was an accidental fire," says a FENZ spokesperson.
The smoke from the incident could be seen for miles around, and Birch Avenue was closed by police to allow appliances to work on extinguishing the blaze.
A St John spokesperson says one ambulance attended the scene shortly after 12pm on Tuesday.
"St John treated three patients in a moderate condition and transported them to Tauranga hospital," she states.
Those close to the incident, which was reported to police shortly before midday, describe an intense experience. "I was one of the first few people to help move cars next door," says Caleb Wingrove, who is also a volunteer fireman.
"It was crazy seeing how quickly the fire got big.
"I'm also a volunteer firefighter so I went in with my crew to overhaul all the pink batts inside. The roof was falling down and the whole back end of the building was gone."
Another person who witnessed the fire at its most severe explains a similar experience.
"I was there helping move cars out of the mechanics next door," he explains.
"It was a pretty full on fire."
More on The Weekend Sun...