Celebrating togetherness on Probus Day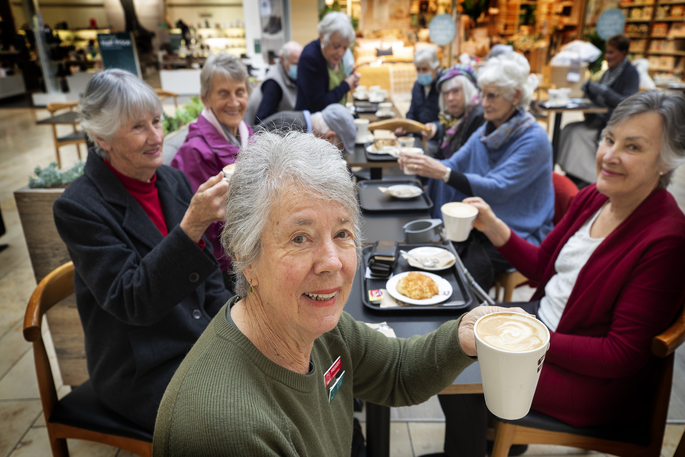 Friendship, fellowship and fun.
This is the Probus philosophy that keeps retirees connected and active - something they'll be celebrating on International Probus Day on October 1.
This year's theme is Celebrate Probus - Do a Friend a Favour, which encourages members to help friends stay engaged through joining Probus.
Oceanside Probus Club president Brenda McCabe says it's more important than ever to stay connected, because lockdowns can leave people feeling isolated.
"There are so many older people who have gone through lockdown and must feel a little lonely and shut-in," says Brenda. "This is an opportunity to come and socialise and meet new friends."
Oceanside Probus started in 1995 and has 55 members from Mount Maunganui and Pāpāmoa. Six of them have been there since the beginning.
There is a monthly meeting with a guest speaker, regular coffee mornings, club lunches, ethnic dining and trips to the movies for Oceanside members. It is one of seven Probus clubs in the Western Bay of Plenty.
"When people come to Probus they hear an interesting speaker - we have some amazing speakers who are very inspiring and they enjoy the fact that they are still part of society and have social connections," says Brenda.
She says ethnic dining outings are popular because members visit restaurants they might have never been to and try new foods.
Probus originated in the United Kingdom in the 1960s. It is now a worldwide movement in 23 countries.
Initially the clubs were formed to meet the social and intellectual needs of retired businessmen, but women's and combined clubs soon followed.
Brenda says the focus is now on being socially connected and active.
The first Probus club in the South Pacific was started in 1974 with the Probus Club of Kāpiti Coast. It was followed by the Probus Club of Hunters Hill in New South Wales, Australia in 1976.
The first women's Probus Club in New Zealand was the Ladies Club of St Heliers that formed in 1982.
Probus has grown exponentially, with 125,000 members across Australia and New Zealand currently.
Oceanside and many other clubs in the region are looking for new members.
For more information go to the club locator at: www.probussouthpacific.org
More on The Weekend Sun...