'Thank you very much for your vac-ci-nation'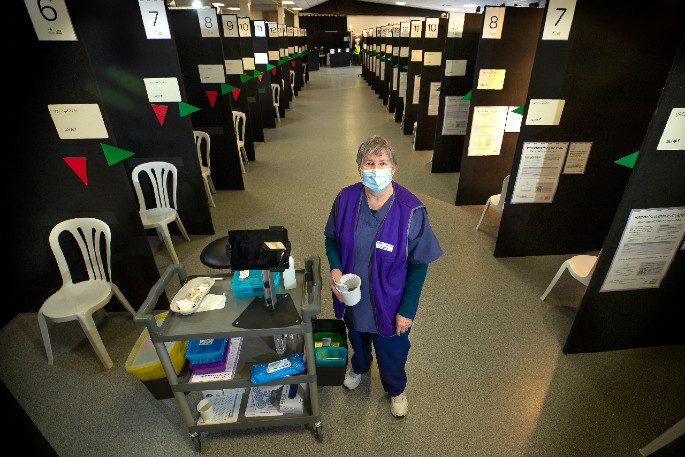 It's time for Kiwis all over the country to roll up their sleeves and take their shot.
An eight-hour Vaxathon will be broadcast this Super Saturday between 12-8pm on Three, Māori Television and Hahana's Facebook page.
The national day of action, staged as a retro-style televised 'vaxathon' similar to the telethons of yesteryear, will feature plenty of Kiwiana at the centre of a country-wide push to surge Covid-19 vaccination rates.
This weekend, New Zealanders are being encouraged to head along to their nearest vaccination sites and receive their first or second doses.
The speed-up in vaccination rates has been prompted by the rising number of cases from the Delta outbreak that started in August.
A live vaccine scoreboard will showcase the best performing towns and regions, with a spirit of competition evident.
Vaccinations will be available throughout the day and into the night on Saturday across GP clinics, pharmacies, marae, churches, mosques, community centres, workplaces and drive-thru centres.
As of Tuesday, 80 per cent of New Zealand's population aged 12 or over are at least partially vaccinated, and 56 per cent are double-dosed.
The Vaxathon will feature celebrities, health professionals and surprise guests as well as real-time vaccination data providing progress updates on each region.
"Everyone across the motu has a role to play to protect New Zealand by getting vaccinated," says Ministry of Health Covid-19 vaccine and immunisation programme group manager of Equity, Tamati Sheppard-Wipiiti. "We're calling for a massive collective effort to make this happen.
"By far the biggest and most powerful weapon we have is vaccination, so we really need everyone from our whānau, families and communities to step up and play their part.
"The Vaxathon is just one of the ways we're reaching out, with vaccine clinics also open right across Aotearoa all day and into the evening as part of the nationwide push, so it's never been easier to get your shot."
Western Bay of Plenty mayor Garry Webber is urging residents to get vaccinated as quickly as possible.
"When it's knocking on your door like this you have no option but prevention," says Webber.
Tauranga MP Simon Bridges says there are two key things that are important.
"We really need to focus on vaccination and increasing our ICU capacity," says Bridges.
Tauranga has seemingly dodged four bullets in recent months, after the Rio de la Plata shipping container cases, the infected Auckland truck driver, the recent positive wastewater tests, and the weak positive case in Katikati - all of which underscore the delicate nature of the region's Covid-19 vulnerability.
With vaccination rates in the Bay of Plenty currently below the national average per 1000 for both first and second doses, and among the lowest in the nation for Māori uptake, the potential impact of a Covid-19 outbreak in the region is clear.
"Covid is spreading and the Delta variant is something of an inevitability," says Bridges. "The numbers of ICU beds around the North Island haven't increased at all since the first lockdown 15 months ago in 2020."
Tauranga has one ICU bed for every 33,261 people. That figure is roughly three beds per 100,000, below the national average of 4.6 beds per 100,000.
If Tauranga ICU and HDU beds are taken up with people who are fighting Covid-19, this impacts on other high need patients.
Work is currently underway at Tauranga Hospital to re-purpose a section of an orthopaedic ward to provide more space for treating Covid-19 cases should the need arise. This work will take six-to-eight weeks to complete.
"I urge people to get vaccinated," says Bridges. "We will, at some point, get to that sharp end of the conversation where a family member of someone we know dies, and vaccination will protect both you and others. Go out and do it today.
"Delta is going to spread. It's spread like wildfire everywhere else in the world. We're not going to stop it. It comes down to vaccination."
Coromandel MP Scott Simpson is also urging his constituents to get vaccinated.
"The reality is this Delta variant is probably going to be coming to a community near us all very soon," says Simpson.
The Coromandel MP, who lives in Thames, received his first vaccination just over six weeks ago and had his second one last week. The Coromandel electorate extends south and includes Katikati, Ōmokoroa and north of the Te Puna Stream.
"My advice is to get tested if you're showing any signs of symptoms or have been to a place which is a location of interest, and get vaccinated," says Simpson.
New Zealand's first-ever 'Vaxathon' will be a celebration of the hard work communities are continuing to put in to ensure more people across the country are vaccinated.
Māori Television CEO Shane Taurima says a new record for Māori vaccinations was set earlier this week with more than 10,000 doses given, and the Vaxathon will help push these numbers even higher.
To book a vaccination, go to: bookmyvaccine.nz or call: 0800 28 29 26.
More on The Weekend Sun...