Region mourns loss of 'role model' rugby star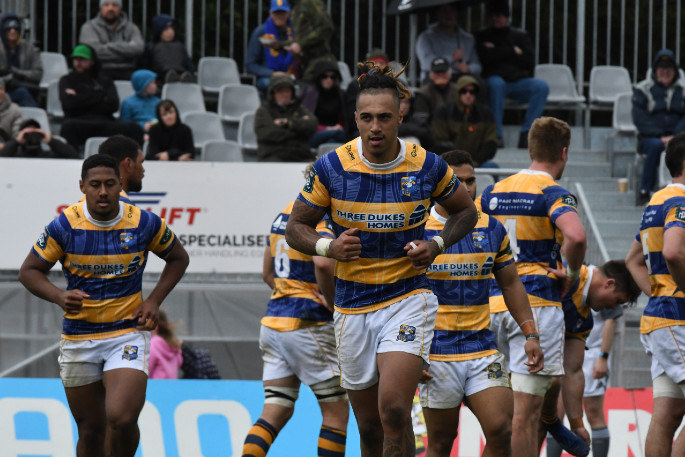 The region's rugby clubs are in mourning this week following the loss of a proud Māori, role model, father, husband, son and brother in Sean Wainui.
The 25-year-old died following a car crash in McLaren Falls Park on Monday morning.
Born in Whatatutu near Gisborne and raised in Auckland, Sean joined the Bay of Plenty Steamers at the start of the 2021 NPC season.
Of Ngāi Tūhoe, Ngāti Porou, Ngā Ariki Kaipūtahi and Te Āitanga a Māhaki, the explosive back was inspired by the opportunity to play for the province of his iwi, as well as remaining close to his wider whānau.
He was also set to play among friends, with several of his Māori All Blacks team-mates already on the Steamers' roster.
Friends and family inspired his move to the Bay, and it was clear he made a strong impression during his time in blue-and-gold.
Bay of Plenty Rugby Union say they are doing all they can to support Sean's wife Paige, children Kawariki and Arahia, and the wider Wainui whānau.
"A time will come when we can celebrate Sean's immense contribution to rugby," says Bay of Plenty Rugby CEO Mike Rogers.
"But our priority right now is supporting Sean's wife and children as best we can at what is an extremely difficult time.
"Although Sean hadn't been with Bay of Plenty for long, he had made a huge impression on everyone and stamped his influence and personality on our environment on-and-off the field."
Sean had been part of the wider Chiefs Country for a longer period of time than his short but impactful stint with the Steamers.
He joined the Waikato-based Super Rugby unit in 2018 after a spell with the Crusaders.
In June he lit up the Super Rugby Trans-Tasman competition and became a record-breaker, scoring a sensational five tries in a single match against the Waratahs.
"We are all thinking of Sean's whānau as we collectively deal with what has been a massive shock for the players and staff," says Chiefs CEO Mike Collins.
"Sean has been a hugely popular and influential figure at the Chiefs and a role model for our young players on-and-off the field since he came to the club in 2018. Our club will not be the same without him and he will be sorely missed by us all."
Whakarewarewa Rugby Community Sports Club, the club with which Sean aligned when joining the Bay of Plenty, have also paid tribute to the New Zealand Under-20 World Cup winner.
"Devastating news," reads a post on their Facebook page.
"Our hearts are heavy today. Sending our sincere condolences to Paige, Kawariki and Arahia. To the whānau and friends of a very talented young man, both on-and-off the field, we are thinking of you all during this difficult time. You will continue to be an inspiration to many Seany.
"We are honoured and privileged to have had you run out in the red and black number with mana, and we will always remember you. Gone too soon, Sean Wainui. Rest in love and peace."
Those regional sentiments have been echoed across New Zealand with tributes pouring in from All Blacks past and present, Super Rugby and provincial rugby clubs across Aotearoa and the entire New Zealand rugby community.
"Rugby is mourning one of our Rangatira, but our first thoughts are with Sean's whānau," says New Zealand Māori Rugby Board chair Farah Palmer.
"They have lost a father, a husband, a brother and a son and we share their grief and their tears.
"As a player we all saw what this young tāne was capable of and the passion and talent that he brought to the teams he represented, but we also saw a role model for young Māori, a caring father who was passionate about his culture, his language, and his identity.
"He will be sorely missed."
The Chiefs have launched a Givealittle page for Sean Wainui's whānau after the tragic events of Monday morning.
At the time of writing, the page had already raised over $190,000 from donors across New Zealand in just 24 hours.
All of the proceeds will go directly to Wainui's wife Paige, and their two children, son Kawariki and daughter Arahia.
New Zealand Rugby is planning a special tribute for Wainui at this weekend's NPC matches.
Wainui played four matches in this season's NPC for the Bay of Plenty, who are currently liaising with New Zealand Rugby over the details of a tribute to Sean at this weekend's Tauranga Domain game against Northland. A planned curtain raiser involving an I Am Hope XI has been cancelled.
Paige Wainui shared a heartbreaking tribute to her late husband via her Instagram story.
She said: "I"m broken. I'm right here, baby. Always and forever."
You can donate to the Givealittle page at: www.givealittle.co.nz/cause/sean-wainuis-whanau-support#donations
More on The Weekend Sun...