A new rising star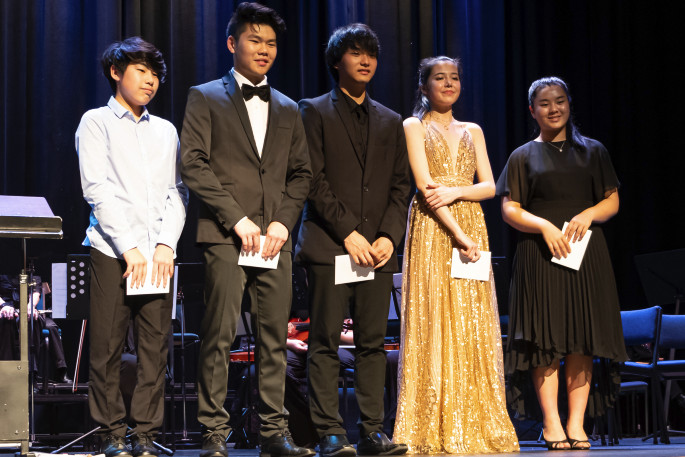 On Saturday, October 30, Bay of Plenty Symphonia was finally able to present their 2021 Rising Stars finals concert, postponed from August due to Covid.
The suitably masked and socially distanced audience at Graham Young Youth Theatre thoroughly enjoyed a great evening listening to five wonderful contestants compete for the title.
Covid restrictions meant that two of the judges were unable to travel. Fortunately local vocal coach, Glenese Blake and trombonist, Joe Thomas joined the panel at short notice. Both brought a wealth of musical and teaching experience to the team.
Speaking for the panel, head judge Peter Walls congratulated the young players individually on their strong performances in this important and inspiring competition.
He says the judges had been impressed by the standard and promise of all the finalists, with a wonderful array of different instruments and styles.
The Rising Stars winner was 17 year old clarinettist Hayden Butt.Hayden impressed the judges with his beautiful interpretation of Debussy's Première Rhapsodie, played with a great range of expression.
The judges awarded a special prize to cellist Grace Tak, also 17, for her performance of a movement from Lalo's Cello Concert.
MP Jan Tinetti presented awards to the prizewinners and other finalists: Pilgyu Chang (piano), Hannah Seo (recorder) and Yusuke Takahashi (double bass), stressing how important music is to the development of young people, particularly in these difficult times.
The orchestra, conducted by Justus Rozemond, also accompanied the 2019 Rising Star winner, trombonist Leo Read.
Leo is now studying performance at NZ School of Music, University of Wellington and making a name for himself in the music world, testament to the value of the Symphonia's biennial competition.
More on The Weekend Sun...