Threat of closure looms for equestrians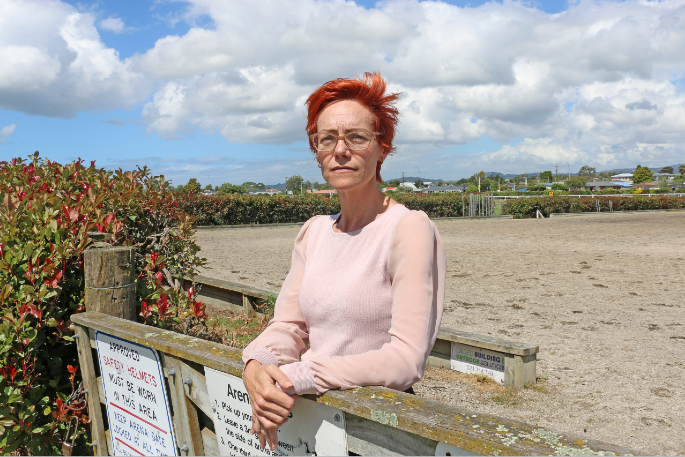 Equestrian clubs would have to close and see hundreds of members displaced if Tauranga Racecourse Reserve land is turned into housing, according to their representative body.
Tauranga Equestrian Sports Association represents nine clubs from all sectors of the equestrian community.
The association has occupied the land in the centre of the racecourse since the 1980s, and have an all-weather sand arena, buildings and horse pens.
The facilities are triple booked every weekend - often months in advance - and are used during the week for training. The space is also utilised by dog walkers and Tauranga SPCA.
TESA treasurer Nicole Kildare says there's no other facility like it in the Western Bay of Plenty, and the central location means it's accessible for everyone.
They have users from all over the Western Bay as well as Matamata, with the next closest facility of the same calibre is in Taupō.
"This isn't just used by the elite of equestrians either," she says.
"This is our community space, where you can come if you've got a borrowed horse, you're just starting out or you're a kid and it's just for fun."
Nicole, who is also a Tauranga Racecourse Reserve Charitable Trust trustee, says most people don't realise the facilities are there and Tauranga City Council doesn't consider the space an active sports field.
"They haven't considered our club use as active sports because it's not part of the ordinary sports reserves."
TESA want certainty around their tenure so they can apply for funding to improve their facilities.
"We'd love to do more work, but we've had this hanging over our head since 2019," says Nicole.
Tauranga Golf Club are also keen to invest in their facilities, but are reluctant to do so without knowing what the future holds.
Golf club board member Richard Craven says to maintain the quality of the assets requires investment.
"We need a decision to extend our lease sooner rather than later, to avoid the deterioration of a public asset," he says.
Tauranga Racecourse Reserve, that includes the golf course, is on a Crown lease administered by Tauranga City Council. It is due to expire in 2039.
Council programme director urban communities Carl Lucca says council is committed to working with existing users through the options and timing in a way that responds to the current lease arrangement, and takes into account their aspirations.
Richard wants people to understand the club is a community asset not just for members, and it is widely used for recreation.
"Messaging from council is that there are two single users at the moment - golfing and racing," he says.
Richard says there are many groups that utilise the space as well as the community. As well as being used by dog walkers and the SPCA, it is used for events, police dog training, equestrian activities and is well used by the racing industry.
"The community feedback has been about the benefit of being able to get into open green space in close proximity to the city."
Richard says relocating the club is not a viable option because it would cost upwards of $150 million.
Tauranga Golf Club and Tauranga Racing Club want housing off the table, but are happy to look at other uses of the available space.
"A Tauranga multi-sports hub would be a very exciting addition to the city's amenities," says Richard.
Chairman of both Tauranga Racing Club and Tauranga Racecourse Reserve Charitable Trust, Carl McComb, says housing shouldn't be considered.
"It shouldn't be up for discussion," says Carl. "It's a reserve.
"We're more than open to working with council on the idea of increasing community amenities."
He says they would still need to be able have race meetings and continue horse training six days a week, as well as be mindful of TESA's activities.
Nicole says having sports fixtures next to equestrian activities would be difficult, because potential noise would scare the horses.
All three are concerned with how the council is seeking feedback through the Greerton Maarawaewae study, and the lack of information provided to the community about the current users of the reserve.
"It appears from the pamphlets and the website that keeping the use as it is, is a footnote," says Nicole.
Richard agrees. "The council's website has these very strong tones of their desire to deliver more housing to the district."
Carl McComb adds: "We've talked about ensuring there's a fair and transparent process through this study and we've expressed our concerns around that."
Carl Lucca says the information council has prepared is only focused on inviting people's ideas.
"There is no predetermination", he says.
"The information is a starting point only, and many ideas are being added to by the community and existing users as we move through the process."
More on The Weekend Sun...