Putting cancer in the hole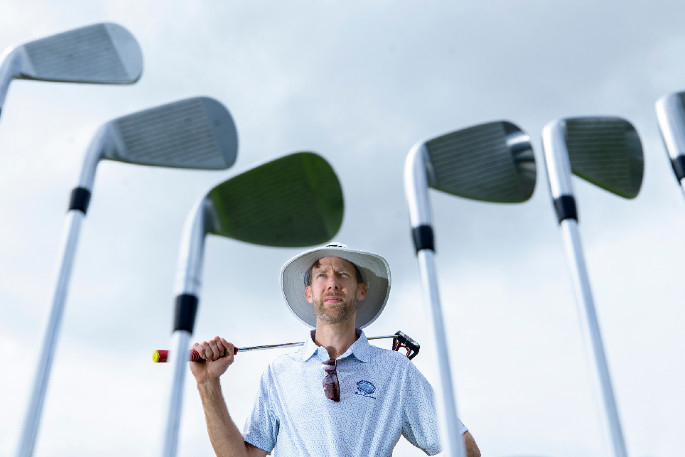 The game of life shares many parallels with the game of golf. One minute you are cruising along the fairway, the next you're in a bunker, digging up sand.
One week in Alex Petty's life last November encapsulates such comparisons, and this weekend he will be taking to the links in Mount Maunganui to raise money and awareness in the fight against the hazard which so emphatically halted the progress on his own course.
In the same week last year that Alex received the hole-in-one news that he was to become a dad for the second time, he received the shock diagnosis of colorectal cancer at the age of 33.
But as Alex admits, he is one of the lucky ones after catching the disease in its early stages, thanks in part to circumstance and fortune.
An optometrist, Alex works within a GP clinic and after a biking expedition in Otago set off some concerning symptoms, he was quick to get checked out.
"Basically, without going into too much detail, I was having a little bit of blood in my stool,"
Alex explains.
"I was fortunate that I could sit and have a bit of a chat with the docs next door about what my symptoms were.
"The doctor had a look and was not sure, so I went to a specialist and had a colonoscopy that confirmed rectal cancer."
Swift abdominal surgery followed, and Alex spent the next two-and-a-half months convalescing. He has fully recovered, with a scan two months ago showing no remnants of the disease.
Whilst catching up over a beer with a friend whose father had also been afflicted by rectal cancer, the topic of the Longest Day was raised.
The fundraiser, in which golfers play 72 holes of golf in one day from sunrise to sunset, immediately appealed to Alex - a keen golfer and member at Mount Maunganui Golf Club for five years.
Alex, who will be playing with 15 friends, is teeing off on Sunday at 5:45am, and will hope to be finished by 8pm. He says he's likely to cover about 40km throughout the day whilst raising money for the Cancer Society.
So far, Alex's 'Team of Legends' have raised a combined total of just over $12,000, contributing to the overall nationwide total so far of $232,000 at time of writing.
Alex's mission, however, is not just about fundraising. He is hoping to raise awareness - especially of cancers such as his which he admits are "taboo" amid the Kiwi attitude of 'she'll be right'.
Alex tells the story of a family friend's relative who experienced similar symptoms to his own. They delayed seeking treatment due to concern of what a check-up might entail.
"Unfortunately, by the time they got checked out it had been there for a little longer than it should have, and was now stage four rectal cancer that had metastasized around the body.
"He lasted about six months and then died, leaving behind a young family."
Alex is imploring anyone who has symptoms, no matter how delicate or embarrassing, to get checked out.
"Look, the tests are a real pain in the arse - no pun intended - but if you do get it early you do get a better chance of a good outcome."
More on The Weekend Sun...