Te Puke turns into Christmas Town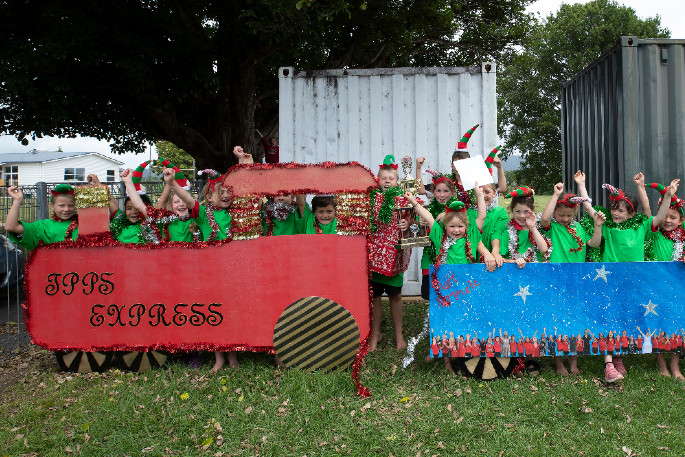 Te Puke Primary School are the winners of this year's Seeka Te Puke Christmas Town.
Traditionally, the Te Puke Christmas Float Parade is held on the first Saturday in December, marking the start of the Christmas season. This year, due to the Covid alert level restrictions and the traffic light system, the parade was cancelled.
Choosing not to be disheartened by this, New Zealand's kiwifruit capital implemented kiwi ingenuity and came up with another idea.
"When we realised we could not safely host a float parade, we switched plans to Seeka Te Puke Christmas Town – an idea that means everyone can create something festive that puts the whole town on display," says Epic Te Puke's Rebecca Larsen.
"The idea is that any decoration, small or large, on display can brighten a street. Decorate a letterbox, a fence, a window - something we can see from outside."
When living overseas, Rebecca noticed that "it is a big deal to decorate the exterior as well as the interior of the property and it makes Christmas especially magical".
The town went ahead with running a self-guided display of decorations, with the same float categories that would have been in the float parade.
As well as Te Puke Primary School, entrants into the competition include Te Puke Baptist, Te Puke Volunteer Fire Brigade, Te Puke Country Lodge, Te Ranga School, Te Puke Scout Group, Hei Marae, Poutiri Wellness Centre, Waipuna Hospice Shop, BOP Tractors Ltd, Allsorts, Learning Adventures Te Puke, Te Puke Furniture, Street 2 Surf Clothing, Dobsons Refrigeration and Electrical, Super Liquor, St Andrews Presbyterian Church, E Sensual Beauty, Te Puke Toy Library, Te Puke Library and Results Personal Training. There are also many families taking part.
Judging took place on Saturday, December 4 - the same day as the parade would have been held, with winners notified on the Epic Te Puke Facebook page.
The categories for the competition were Affco Rangiuru – Community Organisations, Ultimate Motor Group – Education, Zespri International – Business and Commercial, and Mitre 10 – Individual Section.
Te Puke Primary School won the Overall Winner award, receiving the DMS Supreme Theme Prize and Te Puke Jeweller Trophy, which is usually awarded each year to the top winning parade float. Award winners received Epic dollars, which can be used at local businesses who support Epic Te Puke.
Te Puke Primary School received $1000 Epic dollars, as well as winning $400 for their first placing the Ultimate Motor Group – Education category. Second place-getters won $200, third $100 and highly commended won $50.
In the Mitre 10 – Individual category, the prizes were $250, $150 and $100, also in Epic dollars.
"We hope to see more decorated properties join the fun right up until Christmas," says Rebecca.
More on The Weekend Sun...