Christmas in the city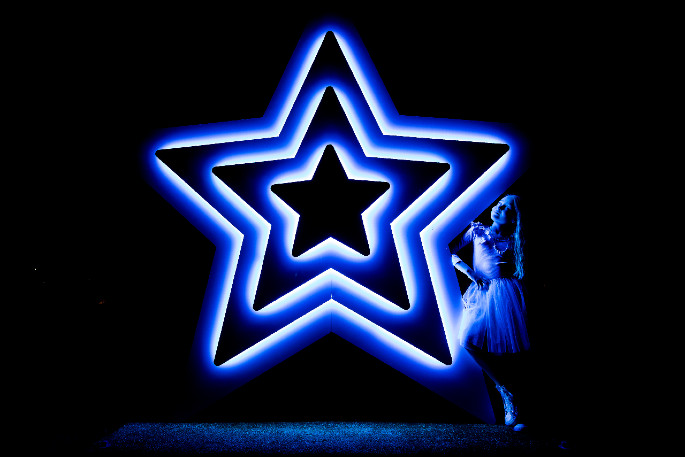 A collection of world class light sculptures and giant-sized Christmas decorations are bringing liveliness to Tauranga city centre this month.
"The Christmas in the City project, which includes a wonderland of illuminated installations in Tauranga's CBD alongside decorations and events, provides the perfect backdrop for residents and visitors to celebrate Christmas in our city centre," says Tauranga City Council arts and culture manager James Wilson.
Some of light artist Angus Muir's installations along The Strand include brightly-lit stacked baubles, titled Shishkaboi, strands of UV spaghetti and illuminated multi-coloured triangles.
"Angus Muir is renowned for creating some of the most incredible light-focussed installations in New Zealand and abroad," says James.
"It's exciting for Tauranga City Council to bring these striking installations to the city centre and to see them spark joy with the public as they interact with them."
Also in the mix of inner-city festivities is the Trustpower Toi Tauranga large scale Hononga exhibition on The Strand.
"As people, we are connected through place, culture, relationships and experiences," says Tauranga mainstreet manager Millie Pidwell.
"We are enriched, we share a bond. The Trustpower Hononga exhibition of magnificent UNO images celebrates our people and their connection to all that matters."
Visitors to the city centre can also enjoy a giant gingerbread house in Red Square, large lit boxed Christmas presents and crackers, and a gingerbread hunt for kids.
Millie says they have focussed on creating a safe inner-city environment.
"We have a beautiful open-air city centre and an abundance of things to see and do for Christmas, all safely within social distancing restrictions."
There's colouring activities for kids, a rock hunt and entertainment over the festive season to add to the magical spirit of Christmas, says Millie.
James says Christmas in the City is about creating enriching and exciting experiences for all.
"There are a lot of events and activities happening in our city centre in the lead up to Christmas and through summer, and we want to encourage our community to come in, soak up the festivities and enjoy themselves."
The installations and exhibition are on display until January 5, 2022.
More on The Weekend Sun...